Concert Thu May 24 2007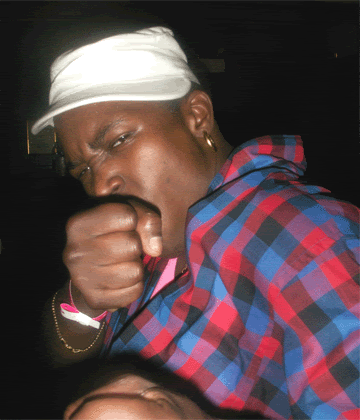 Gal brings heat. Love to Susana Meza for the flick.

The following is a conversation between fellow Transmission conspirator Graham and I after !!!'s impressive showing last night at the Metro. He's a veteran of such shows; this was really the first show of its kind for me. A good time was had by all, and we both had our takes on our expectations and experience at the show.
Words continue on.
TROY: First off, big ups to my man jkb for hipping me to !!! in the first place.
I'm a veteran of many types of shows. Jazz shows where you can close your eyes and feel the music. Hip-hop and soul shows where there is a connection to the performers. Rock shows, where you do your thing and rock out while the "too cool for the room" people stand and act like the drummer isn't having a great night or the guitarist isn't kicking out the jam.
Last night was a first for me: an electronica rock show. I've listened to most of !!!'s creative output over the past week, and I knew that they bring new isht to the stage every time they play, which is new to me. So last night was a learning experience for me. I enjoy most any show where the crowd is clearly enjoying themselves and the artists do their part to whip them up into a frenzy. All told, !!! played for a little over an hour, and took no breaks whatsoever. There was no dead air, no respite, just rapid assault of licks and drumbeats.
Musically, I can't really say a whole lot that hasn't been said. They kept on beat, which is what I actually expected them not to be. In comparison, Holy F_ck, who opened and rocked out for half an hour or so, experimented a lot with beat changes and tonal discord, making it impossible to nod your head to the same beat for more than seven seconds. That's what I expected with !!!, but the very fact that !!! uses vocals — and Holy F_ck did not — made it necessary for !!! to stick to a rhythm, which was helpful for head-nodding or thrashing about.
GRAHAM: I wasn't entirely sure what to expect, myself. The new album has them taking a conscious step away from what have become punk-funk clichés -- the stuff that's become boilerplate for so many (perhaps too many) bands that have jumped on the trend. They backed off from having so much of that sketchy, scratchy, noisy, angular guitarwork, especially. They sound like a straight-up groove-heavy party band this time out, concentrating more on the percussion and multi-part rhythmic interplay between all the members — pushing that to the forefront a lot more, foregrounding that. (And yeah…someone eventually broke out the cowbell.) But live, they sounded a lot more like they always have, even though they played a generous portion of the material from the new album.
TROY: Indeed. Maybe they know that live, the noisy/scratchy stuff isn't going to move the crowd. Like my friend K said at Holy F_ck: "Some stuff you can't dance to, or move to, you just vibe to." With !!!, there was definite groove, definite attempts to rock the crowd and move asses rather than just dissonant sound. Not to say there isn't anything wrong with it, but knowing what to expect is key in terms of live performance enjoyment.
GRAHAM: Right. Holy F_ck work in a similar vein — punk-funk jamming, essentially. But yeah, they like to dirty it up with distortion, lots of knob-twiddling on the electronic end of things. Obviously they're more interested in kicking up a racket than holding down a steady groove. Effectively, !!! are the folks who think it ain't a party 'til folks start dancing; whereas for Holy F_ck it ain't a party 'til something gets broke.
TROY: Thing is, and I may be weird in this, but I need a beat to break something to. Holy F_ck didn't do that for me at all. Partially because of the vocals, partially because of the vibe, !!! did more to engage the crowd that I was used to. Even as much as a couple of members of Holy Fck got into it, I don't think they'd notice if shit was getting broken while they played. At any rate, if I wanted noise, I'd get Ornette Coleman. His chaos had structure.
GRAHAM: Speaking of Ornette Coleman. The big WTF moment for me was when they broke out the saxophone. The crowd went completely guano when dude trotted the thing and hoisted it over his head. It was like a scene where all the villagers go "oooooh" when the hero first brandishes the sword that's going to slay the dragon.
TROY: That...was dumb as hell. Don't get me wrong, I'm all about bringing in non-rock instruments, like my man with the trumpet near the end of the set. The sax was unnecessary, though, and ultimately a disappointment. And it wasn't even that integral to the tune. At least the trumpet brought some bombast, some brass to the groove. The sax, not so much.
GRAHAM: That additional vocalist that they've added for the tour definitely pushed it over the top. I think she definitely brings something that rounds out their slight change in style. Hella nice, strong voice. And from a performance angle, she nearly took over. Their collective energy definitely notched up to peg the top of the meter when she joined them a few songs into the set. Gal tore it up.
TROY: Oh, no doubt. I'm no long-term fan either, but her appearance at last night's show made me wonder where she's been and what else she could add. Not saying she has to show up on every track from now on or anything, but her presence most def brings a lot out, as well as gives singer Nic Offer a breather.
I derived most of my enjoyment of the show from the crowd. I've been to many shows (of all ilks) where the crowd refuses to move, refuses to feel the beat, refuses to move their poser asses to a rhythm that's loud and EVERYWHERE. Nope, the crowd rocked out with varying degrees of rhythm itself; it was infectious.
GRAHAM: The band was lively. They were having fun, but leaning hard into that groove. That's what the crowd was there for, so the band delivered in that respect. Folks was way into it. There was a broad stripe of the crowd, running from front and center and running up through the balcony, where everyone was bouncing with their hands in the air the entire time.
TROY: I wish I'd had my sketchbook. I had a cartoon or two in my head, too.
GRAHAM: What of?
TROY: Some of the people I was back with. Some of the characters.
GRAHAM: Judging from some of the shows I've been to at Metro, I found the cartoon ratio surprising low this time. But yeah, I see lots of walking cartoons when I'm there, usually. Like The Obnoxiously-Drunk-Frat-Guy-Whose-Ass-Is-About-To-Get-Bounced-By-Security cartoon over there. And there's the Pair-Of-White-Urban-Hipster-Dudes-Who-Dressed-Themselves-From-a-"Mass Appeal"-Fashion-Spread cartoon over there. And over there. And over there, there and there.
TROY: I have two in mind. The Hyperactive-Chick-Who's-Trying-To-Dance-With-Dude-Whose-Only-Concern-Is-His-Beer. And the We-Only-Dance-With-Each-Other Chicks.
GRAHAM: Right right. Can't forget about those.