Concert Thu Jun 07 2007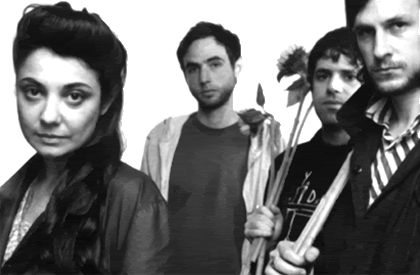 Depending on whom you listen to, eyewitness accounts of live shows by the NYC outfit Gang Gang Dance alternately describe the band as playing either dance-punk, free jazz, freak folk, neo-psych something-or-other, or straight-up noise. Admittedly, the band has done its share of murking up the waters, seeing how each of their releases sounds considerably different from each other. Their 2004 eponymous LP, for instance, might be described as: Yoko Ono sings Uzbek torch songs with Sun Ra's Arkestra and rhythmic assistance from Einstürzende Neubauten. The audio-companion EP to their newly-released Retina Riddim DVD is little more than a tight, noisy, rhythmically-edited sound collage that keyboardist Brian DeGraw put together via a sequencer. Between those two efforts falls their superb 2005 album God's Money, on which the band offered their most accessible and song-oriented material to date—with singer Liz Bougatsos's multi-tracked vocals spinning dervish-like circles around the band as they furrowed into an eclectic, urban neo-tribalist groove. Pan-cultural influences abounded throughout, revealing traces of Algerian raï, Indonesian pop, gamelan-like lullabies, equatorial rhythms, and other such far-flung elements. The results were often hypnotic and bewilderingly beautiful, like the collision (or convergence, morelike) of transglobal radio signals, all of them intermeshing to form something newly, wholly other.

Gang Gang Dance is reportedly finishing up work on a fourth LP, and they're scheduled to play the Empty Bottle this Saturday. They're no easier to pin down from the company they keep, having previously toured with everyone from TV On The Radio to SpankRock. On their current sojourn, they're due to soon link up with Ariel Pink and Architecture In Helsinki somewhere en route. Saturday's performance at the Bottle, however, is geared for those with more heavily experimental tastes. On the opening bill is OCRILIM, the latest avant-metal project from Orthrelm guitarist Mick Barr, who recently released an album on John Zorn's Tzadik imprint. Local ambient-sludge noizeniks Teith get things started. 1035 N. Western. 10pm, $10.
[mp3]: Gang Gang Dance - "Glory In Itself/Egyptian"
[mp3]: Gang Gang Dance - "Egowar"
[video]: Gang Gang Dance - "Retina Riddim" (excerpt)