Concert Tue Jun 12 2007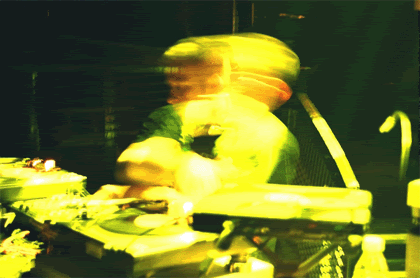 For many DJs, the business of spinning and mixing mostly involves playing what folks know and want to hear, what'll keep the joint moving. But for a few brilliant pioneers, the venture can also involve taking the dancefloor on a far-flung rhythmic journey, one that cuts across a plethora of musical style and genres, crossing a broad spectrum of musical history without once losing the beat. Such is the case with the veteran UK crews of Coldcut and DJ Food, both of whom have been operating out of London for over 15 years.
Originally, DJ Food started out as a revolving-door collaborative effort between Matt Black and Jonathan More of Coldcut, with the assistance of deejays Strictly Kev and PC. Their early reputation rested on their getting the downtempo/trip-hop scene rolling with their set of Jazz Brakes releases back in the early 1990s. Shortly thereafter, Kev and PC took over the DJ Food project, and quickly made a name for themselves as world-renowned champions of eclectic, genre-spanning beat science mixology via their broadcasts on the Solid Steel radio program on KISS FM (currently on the BBC) in London.
Kev's been largely working solo on the DJ Food project since partner PC bowed out several years ago, and he made some huge waves back in 2004 when he broadcast the encyclopedic and apocalyptic mashup-to-end-all-mashups mix, "Raiding The 20th Century" (which subsequently circulated all over the web in bootleg mp3 form). Over the past several years, he's hooked up with newfound partner DK, and both of them now share mixing duties on the Solid Steel webcasts. They recently released their second mix-CD, Now Listen Again, on the NinjaTune label.
This Friday night, Kev and DK will be trading off deck duties at Smart Bar, making an appearance on their latest U.S. tour. DJ Striz opens. 3730 N. Clark. Tickets are $12 before midnight, $15 after midnight (night of). 21 & over. Doors open at 10pm.
[video]: Pointer Sisters - "Sesame Street Counting Song" (DJ Food edit)
[download]: Strictly Kev - "Raiding The 20th Century" mix (via UbuWeb)