Concert Wed Jun 13 2007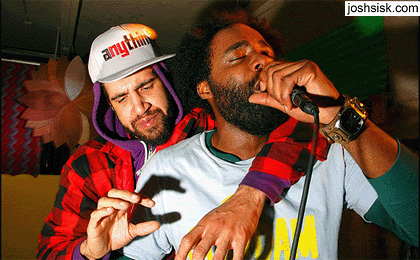 Plastic Little emcees PackofRats and Mr. Bombadillo
You'd expect that the Philly "party rap" crew Plastic Little might not have the clearest memory of their first Chicago show, which went off at the Empty Bottle this past January. When the band took the stage after a heat-bringing set from Kid Sister, they were bandying about a liter bottle of Maker's Mark that was already two-thirds dead. But throwed or not, they delivered an unfalteringly high-energy show—with emcess PackofRats, Mr. Bombadillo, and Jon Thousand all over the stage for the entirety of their set, kicking hilarious rhymes over club-banging cuts that kept the crowd moving. And yeah...they remember the night quite well, actually.
Talking to Plastic Little emcee Kurt Hunte (aka Mr. Bombadillo), he tells me it was one of their favorite shows on the tour. "Easily I'd say we met with the best crowd, the best response, that we've experienced outside of Philly and Pennsylvania." The tour was the group's first time making a nationwide juant, getting out of the East Coast scene that'd been their circuit for the past several years. They'll be returning to Chicago this Friday evening, having been booked by the Bottle to play inside Juan Chávez's Speaker Project at the Hyde Park Art Center.
Asked about how they feel about performing in an art object, Hunte tells me that P-Little isn't worried about it cramping their style or anything. It turns out they've encountered a few challenging venues in their days, like the time they ended up playing a supper club. "Yeah, we were up there on this stage kicking it," he recalls, "And we'd look down and there'd be all these people sitting there eating their dinners."
Plus the guys know the Project, are familiar with Chávez's work, and have had no small degree of contact with art venues. Many of the group's members have art-school backgrounds. Jayson Musson (aka PackofRats) has his own gallery side-career going, Hunte co-runs his own business designing and selling his own limited edition clothing and t-shirts, and producer/beatmaker Michael Squid does some crafty web design and animation.
Friday's appearance is also something of a special engagement for Plastic Little. They aren't currently touring, so they're making a special trip to Chicago for the date, after which they'll return to Philly to do a little recording before heading out on a proper tour later in the summer. September has them playing some East Coast shows with the Brazilian carioca-funk outfit Bonde do Role and releasing the "Drizbodia" EP, which features remixes of their work by the likes of Hot Chip and Pink Skull.
This past year's been a big one for Plastic Little, seeing them blow up from a mostly-local underground sensation to a national one-to-watch phenomenon. Admittedly, their good-natured irreverence, effrontery, and uber-ironic antics aren't appreciated by everyone—even, sometimes, the very people who claim to "get" them. Referring to the last year's dust-up with Vice magazine over the group's ads for their debut album She's Mature, Kurt shrugs. "Grownup trouble-making…it's kinda what we do," he tells me, "Or at least what we rap about." But, he concedes, "It's gonna be hard to top that one since we haven't peed in any bookbags recently."
Plastic Little will be appearing at the Hyde Park Art Center this Friday evening at 8pm. 5020 S. Cornell Ave. Tickets are $8, and are available via the Empty Bottle site.
[video]: Plastic Little –"The Jump-Off"
[video]: Plastic Little – "Club Banger"