Concert Tue Jun 26 2007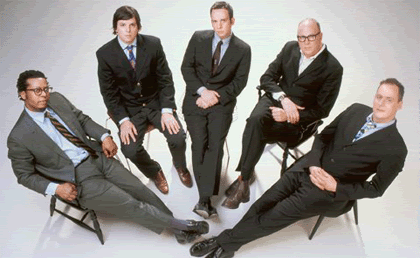 Tortoise pops its head out of its collective shell to make an in-town appearance at the Metro this weekend. Granted, it's been three years since they released an album of new material, but expecting a regular schedule from an entity that never fully behaved like a "band" in any conventional, rock-wise sense would be like asking Jackson Pollock to color between the lines. And it isn't like the band's their activities have been slack in the interim. Recent efforts have seen them all busy with their various side projects, be it the recent effort from The Sea & Cake, Doug McCombs continuing work under his Brokeback pseudonym, or guitarist Jeff Parker being the indefatigable and multi-skilled musician about town. Not to mention that this past week saw the release of the Bumps LP--a one-off project by drummers John McEntire, John Herndon, and Dan Bitney.
Despite all of the tangential bustle, Tortoise has reportedly been working on new material, and recently contributing some music for an upcoming documentary on Robert Moog. They're making a quick excursion of touring through major cities across North America. Sunday night will find them making a quick stopover at home base to play the Metro. Touring with the band and featured on the opening bill is Joan of Arc offshoot Make Believe. Somewhat newsworthily, the occasion marks one of Tim Kinsella's final performances with the group (in case you missed it, story here). So catch that while you can. First up on the billing is David Daniell. 3730 N. Clark. Tickets are $19. Doors open at 7pm, show starts at 8. 18 & over.