Concert Tue Jul 10 2007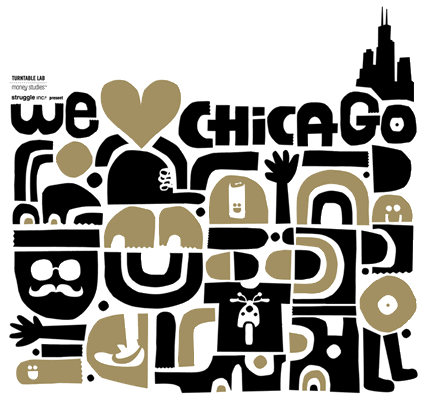 artwork courtesy of Struggle Inc.
This weekend, there'll be no shortage of clubs hosting afterparties for the Pitchfork Music Festival, but it looks like the Empty Bottle has pulled out all the stops by stepping up with the most ambitious of all. Entitled "We ♥ Chicago," the Bottle's series of afterparty events offers three straight nights of merrymaking and dancing with a top-shelf selection of bands and DJs.
Looking down the schedule for the series, you probably notice a lot of exclamation points. And hey, that sense of excitement is perfectly appropriate because the whole affair is poised to be one of the biggest party events of the year. In case you missed it, here's the whole swoll package:
Friday, July 13
Gravy Train!!!!
The Cool Kids
GutterButter DJs
Saturday, July 14
Chromeo
Flosstradamus
Vyle
Sunday, July 15
Yo! Majesty
Marjongg
My!Gay!Husband!
The roster was put together by the Empty Bottle's program coordinator, Peter Toalson, who wanted to offer a dream-team showcase that'd be a hit with locals and out-of-towners alike. The decision to title the series "We ♥ Chicago" was, Toalson tells me, pretty much a given. "It's just something I hear all of the time: 'We love Chicago!' With all of the people I talk to—musicians, bands, agents, promoters and the like—everyone looks forward to playing here, wants to play here. They love the city, they love the music scene here, and they love the crowds that come out to the shows."
Granted, Chicago's status as a vital nexus on the national indie rock scene is pretty much textbook. But with the newfound popularity of homegrown artists like Kid Sister, Flosstradamus, and the Cool Kids, the Windy City has also become a city to watch for the danceclub set throughout the country and abroad. And a party-sparking vibe was very much what Toalson was aiming for when he was picking artists for the series.
From the start, he had a very clear idea of what he was after and who he wanted. "Ultimately, It's what we—myself and the Bottle staff—would like to have going on if were throwing a big blow-out," he says, "What we'd like if we were aiming to just have fun, get drunk, and dance all night." And in doing so, he saw the opportunity to fill a niche, to pick up where the Festival leaves off. "After a day at Pitchfork, of standing in the sun and listening to rock bands, we figured we could offer something—something fun and different—to cap it all off." Each night will feature two bands or performers, with a DJ (or DJ crew) who'll spin throughout the evening and kick the whole affair into full-fledged dance party mode at evening's end.
The NYC-based Turntable Lab crew signed on to give the series some added promo push on the national scale, and additional talent support is being contributed by local artist Cody Hudson—a.k.a. Struggle Inc.—who's created a limited-edition silkscreened logo for posters and t-shirts, copies of which will be available at the club this weekend.
Each evening's events get underway at 9:30 PM throughout the weekend. Tickets for Friday and Sunday are $10 each, and $12 for Saturday. Check the Empty Bottle's site for ticket availability and info.