Concert Thu Oct 25 2007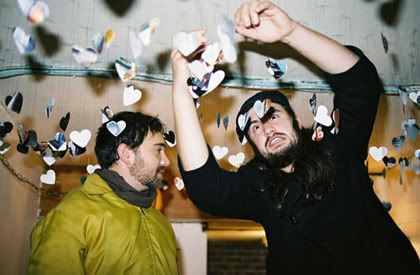 This Sunday night sees a return performance from the Oakland noise-rock outfit D Yellow Swans as they roll through town in the course of their latest tour. It's been six years since the duo first started kicking up dust back at their initial home base in Portland, and in the intervening years they've released a beleaguering batch of material, with a back catalog of some 60 releases--many of them in very limited editions.
For the sake of sheer perversity, the group continually changes part of their name, having the "D" take a different form with each release (e.g., standing for Das, Die, Drowned, Dreamed, Detained, Dyad, Damned, etc etc). But if one thing about them has remained consistent, it's how they deliver tangled, surging masses of bottom-heavy noise--all churned out via guitar and a labyrinthine patchwork of mixers, effects units, and drum machines. As evidenced by Live During War Crimes II, a recent collection of their live material, D Yellow Swans' sound involves a loose, improvised approach to whipping up a sonic maelstrom; one deeply indebted to the early industrial excursions of perennial faves Throbbing Gristle.
But their latest studio effort At All Ends reveals a more pronounced, hazily melodic sensibility clamoring it way through the Swans' seismic din. Threaded with chiming and droning guitarwork, the album's prompted comments about a creeping Krautrock influence. But as member Pete Swanson recently rebuffed in an interview at Foxy Digitalis, "I was never really hit by that kraut stuff at all. ...[It] doesn't do anything for me." Instead, he claimed, the recording of the album was more inspired by his own personal obsession with the production work on Sade's Love Deluxe. Bullshit and ruses aside, At All Ends is a less chaotic affair than the band's prior output, but no less visceral. It's even prompted a few reviewers to use the term "beautiful" in their assessments. And depending on who you talk to, D Yellow Swans continue to hold down their rep as the best and most reliably interesting American noise band on the scene.
D Yellow Swans headline at the AV-aerie this Sunday evening. Zelienople, Oakeater, and Burial Hex are also on the bill. Tickets are $8, and the show revs up at 8pm. 2000 W. Fulton. Check the Empty Bottle's website for further details.
[video]: D Yellow Swans – "I Woke Up"
[video]: D Yellow Swans – Live in Antwerp, May 2007