Concert Thu Nov 01 2007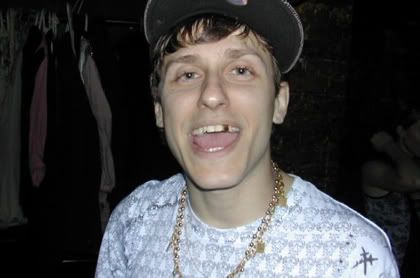 After playing merry prankster on the breakcore scene for a brief stint, Drop The Lime (aka Luca Venezia) threw all and sundry a big curveball with his breakout album We Never Sleep in 2006. The LP marked an bewildering and ambitious follow-me-now branching out--one that embraced a more party- and listener-friendly sound that ranged from dancefloor bangers to cabaret crooning. Spun on a thread of stylistic twists and somersaults, it didn't exactly hurt that Venezia hammered the whole thing home with the ultimate above-the-sheets caress-fest soundtrack "Turn Out The Lights."
Nonetheless, it's his party-ripping DJ sets that Venezia's been hanging his hat on lately. He's become the accidental impresario behind the die-hard Trouble & Bass dance scene in New York within the past two years, spearheaded his own subgenre by specializing in what can only be described as a monsterous breed of "dirty-electro-bootybass-grimey house." It's the sort of stuff that moves like a panther: dark, growling, riding low and incredibly fast. It goes 0-140 BPMs in 20 seconds flat and renders the entire Ed Banger catalog sluggish and obsolete just as quickly. And somehow he's managed to carry over some of the silliness and wrecktitude that characterized his early breakcore output.
Drop The Lime is spinning with fellow Brooklynite XXXChange (of SpankRock affiliation) Friday evening at Sonotheque. Also on hand will be hometown fave Jordan Z and other New Indie residents. And even though Sonotheque's floorplan isn't exactly designed for optimal dancing, expect to get all frenzied and sweaty -- so much so that you might actually hurt the next day. But hey, you'll have an extra hour to recuperate this weekend, so go get with that. 1444 W. Chicago. Admission is $10, doors open at 9pm.
[mp3]: Drop The Lime - mix set + tracks (via Trash Menagerie)
[video]: Drop The Lime - "Hear Me"
[video]: Drop The Lime - "Butterscotch"