Concert Mon Nov 19 2007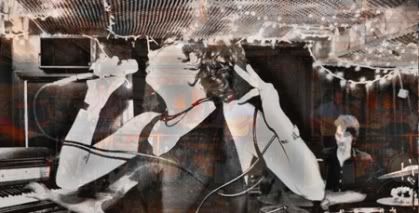 If anything, the Baltimore-based trio Celebration deliver a mighty big wallop for a three-piece. After the dizzying, tumultuousness of their impressive 2005 debut, the band has pared things a bit on the newly-released follow-up, The Modern Tribe. Dark, carnivalesque organ and propulsive drumming still fuel their tunes; but these days they're opting for slightly more sparse and sweeping arrangements that help clear some of the clutter from the stage in order to foreground the vocals of frontwoman Katrina Ford.
Which is all much for the better, seeing how Ford's vocals is the band's most distinctive and magnetic asset. She howls and she moans and keeps the range that falls between the two on solid lockdown, packing more raw emotive intensity and nuancing into a single couplet than most manage in the span of an entire album. Bonus points will no doubt be awarded to the new album because fellow tribesters TV On The Radio step in to lend a hand on a couple of tunes; but when all is said and done, Celebration can handle everything pretty superbly on their own.

Celebration will be headlining this Friday at the Empty Bottle. Kill Me Tomorrow and Aleks & the Drummer are scheduled to open. 1035 N. Western Ave. Showtime is 10pm, and tickets are $8.
[video]: Celebration - "Evergreen"