Concert Mon Jan 28 2008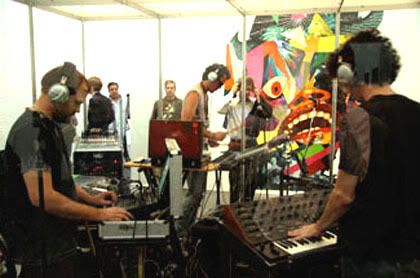 The Chicago outfit Mahjongg recently went on tour, aiming to round up converts to Kontpab--which is both the title for their new album that's now being released on K Records and the name of a post-millennial cult that the band recently started. Actually, the stuff about the cult's just a bunch of presskit monkeyshines; but the album's for real, and Mahjongg will be returning to home base to play a record-release party at Subterranean this Thursday.
If you threw a party and invited Suicide and Konono No1 to play in your basement, what would it sound like? Kontpab probably best answers that question. In the time that's lapsed since their prior LP, Raydoncong2005, Mahjongg has undergone some slight personnel changes. Their sound has changed a little, as well. Save for bass, guitars are largely out and keyboards dominate -- specifically keyboards of the gritty, pulsing electro-punk variety.
There's also an even greater percussive emphasis this time around. It's been noted that Mahjongg take a page from Talking Heads à la Remain In Light, and Kontpab finds them moving even further in that direction, with the band piling on layers of dense and intertwining West African rhythms on the albums' opening and closing cuts. Between those two drum-heavy bookend tracks, there's a few shadowy and austere passage, plenty of new-wave synthesizer throbbiness, some wry social commentary, and even a rowdy shout-a-long about flying vermin. The knip-knopping electronics and subtly shifting rhythms of "Teardrops" and "Tell The Police The Truth" exhibit the band's savviness at playing minimalism off of maximalism while serving up a groove that's both hypnotic and possessingly danceable.
You can catch Mahjongg's headlining set at their record-release show at Subterranean this Thursday evening. The Chandeliers are on the opening bill, as are Golden Birthday. Doors open at 6:30pm and the whole thing's scheduled to get rolling at 7pm. 2011 W. North Ave. Admission is $10.