Concert Thu Feb 14 2008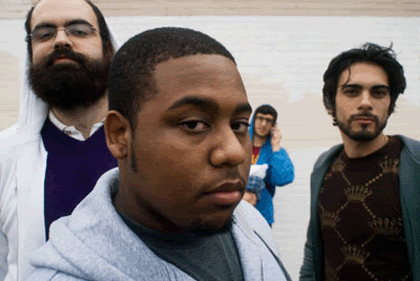 For the handful that heard it, Food For Animals' first EP, Scavengers, was one of the boldest musical debuts of 2004. Throughout its blitzkrieg 22-minute stretch, emcee Vulture Voltaire kicked bellicose verses about the current political climate and contemporary hip-hop while deejay Ricky Rabbit served up a fragmented blizzard of samples and sonic schrapnel punctuated by punchy, thuzzed-out beats. It was noisy, boisterous, incredibly exciting -- a speaker-shredding monster. And given all that, it wasn't surprising to learn that the two guys responsible for it were veterans of the D.C. hardcore punk scene.
The duo took a brief hiatus in the intervening three years. Recently, they've relocated to Baltimore and taken in a third member when emcee HY came aboard. The release of their new debut full-length, Belly, finds Food For Animals broadening their musical palette, both musically and lyrically. Vulture V has largely sidelined his penchant for socio-political rants this time out, and HY brings some welcome humor and stylistic balance to the mix. The two emcees sling rhymes that don't so much ride the beat as tease it out of Rick Rab's digital onslaughts. And yeah, while there's the juked beats on "Virgogo" and some slo-mo skrewd vocals hooks on a couple of tracks, a majority of Belly's content falls in the most outbound orbit from contemporary hip-hop. Fair to say that it's an animal that eats backpackers for breakfast.
Food For Animals will be appearing at the AV-aerie next Saturday, February 23. They're currently touring with Bay Area freeform skronksters Mi Ami, who are also on the bill. Chicago's Pit er Pat headline for the evening, Scalpels open, and DJ Mayor Aspirin spins between sets. (Now how's that for a diverse billing?) 2000 W. Fulton. It all gets underway at 9pm and admission is $8. All ages show.
[mp3]: Food For Animals - "Cut and Paste" (2004)
[mp3]: Food For Animals - "Swampy (Summer Jam)"
[mp3]: Food For Animals - "Mutumbo"