Concert Wed May 07 2008

Considering that they've only been active for just over three years, the Chicago-based trio Russian Circles has managed to rack up a high ratio of praise throughout the webzine community in a short period of time. It seems there's something unique about the group's music that resonates with those who've heard it. The band's 2006 debut album, Enter, met with enthused accolades across the board, and quickly the landed them a slot on the top of the bill at Drowned In Sound's End-of-Summer festival in London last August. With the pending arrival of their sophomore LP, Station, Russian Circles are set to kick off another tour, beginning with a record-release party and a headlining set at Subterranean this Saturday evening.
Those who requested "more, please" after hearing Enter will be satisfied to find that its follow-up provides just that—six lengthy tracks of intricate and richly moody instrumentals. For lack of better descriptions, the band's music has been described as "math-metal" or as some vaguely metal-minded offshoot of shoegazing post-rock. That's as good a place to start as any, and there's enough evidence on Station to support the label as there is to refute it. The second track, "Harper Lewis," features the album's most overtly alloyed moves—beguiling the listener with a menacing, downtempo bass line and doleful chords before building into full-fledged Raid-of-the-Visigoths riffing. Similar sacking and pillaging continues on the album's title track (this time on horseback), and "Youngblood" gouges its way forward on proggy rhythmic counterpointing and oscillating apreggios.
All of that intensity and heaviness aside, Russian Circles are just as prone to mapping less ominous terrain—delving into compositions strewn with exquisite motifs and impressionistic textural swells, surges, and lulls that are more often gorgeous than they are foreboding. The group aims for arrangements of symphonic magnitude, but they usually do so by foregoing the gratuitous bombast, carnage-evoking climaxes, and cluttered baroquisms; instead opting for subtlety and a pared-down musical syntax. Sure, certain passages on Station might bring Metallica or Isis to mind, but there's plenty of precedents from the heavier end of indie-/post-rock spectrum (e.g. Mogwai, Godspeed Y!BE, Explosions In The Sky) that make for better points of comparison. In the end, a good bit of the appeal of Russian Circle's music might be that it covers so much artistic ground without fitting squarely in any one genre niche.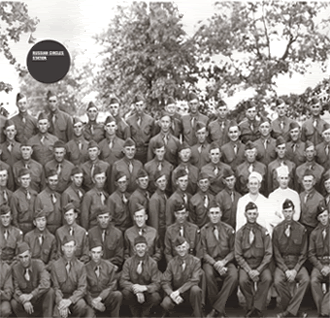 [video]: Russian Circles - "Harper Lewis" (Live, Wicker Park Fest 07)
{Station is available on the Suicide Squeeze label. Russian Circles, in conjunction with Alarm magazine, will be celebrating the album's release this Saturday night with a show at Subterranean. Tight Phantomz and Call Me Lightning support. Doors open at 8 PM, and the show gets underway at 9. Admission is $12, and the show is ages 17 and up. 2011 W. North Avenue.}