mp3 Tue May 27 2008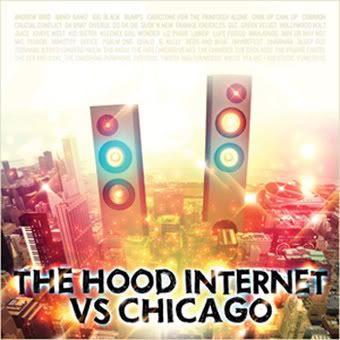 And what were we just saying about summer mixes?
Come hell or hot weather (whenever that might be), it looks like it's time to just call it -- break out the grill, take the winter coats to the dry cleaners, and just get on with business.
And here here we have a little something to help soundtrack the transition. Local mash-up misfits The Hood Internet keep busy when it comes to crafting and cranking out tracks and mixes, and this week they've added yet a new mixtape to the stack. Entitled "The Hood Internet vs. Chicago," it's a 24-track fat sack of downloadable "bastard pop," sporting an exclusively hometown theme. As in: Juice vs. Liz Phair, Cool Kids vs. Frankie Knuckles, Twista vs The Sea and Cake, R. Kelly vs. Casiotone For The Painfully Alone, and a bunch of other such business (one of which manages to slip in a bit of the "Superbowl Shuffle").
So go and get it via download from The Hood Internet's website. Get a peep of the tracklisting on the other side of the jump.
1. Intro
2. Pro Nails Forever (Kid Sister vs Walter Meego)
3. Frog Minutes (Shawnna vs LMNOP)
4. Cakeicide (Hollywood Holt vs Prairie Cartel)
5. Juke And Pop (Mic Terror vs Green Velvet)
6. Superbowl Jesus (Kanye West + 1985 Bears vs Wilco)
7. Trenchache (Juice vs Liz Phair)
8. 80s Problems (Tha Basix vs Mahjongg)
9. When Baby Mamas Collide (Qualo vs Chin Up Chin Up)
10. Simple X-plosion (Diverse vs Andrew Bird)
11. Your Love Iz What It Iz (The Cool Kids vs Frankie Knuckles)
12. Sisters Of Chicago-Rillas (Rhymefest vs The Changes)
13. I Ain't That Bowie (Twista vs The Sea And Cake)
14. Hay Electric (Crucial Conflict vs Reds and Blue)
15. Watch My Big Feet Jump (Dude N Nem + Twista vs Office)
16. Ten-Day High (Do Or Die + Kanye West vs Tortoise)
17. Eatchyo Stigmata (Yea Big + Kid Static vs Ministry)
18. Smash That There (Yung Berg vs The Smashing Pumpkins)
19. Stages Of Standby (Psalm One vs Kleenex Girl Wonder)
20. Can You Eat Some More Heavy Fists Of Love? (Kanye West + GLC vs Bumps + Terminal 4 + Big Black)
21. I Used To Love The Blue Line (Common vs Bang! Bang!)
22. I Gotcha Trees (Lupe Fiasco vs May Or May Not)
23. What Chu Like, Old Mare? (Da Brat vs Sleep Out)
24. Kells-Tone For The Painfully In Love (R. Kelly vs Casiotone For The Painfully Alone)