Concert Tue Jun 17 2008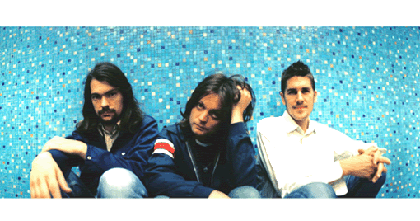 Over the past five years or so, plenty of people have, thankfully, gotten the heads-up that there's far more to the Norwegian music scene than black metal. Be it the leftfield nu-jazz explorations of Jaga Jazzist, the sonic experimentation of Maja Ratkje, or the brooding synth-pop of 120 Days, Norway's been an engine of creative musical energy for well over a decade now. And now it looks like it might be time for one of the country's best-kept secrets to get some overdue recognition. The Trondheim power trio Motorpsycho have been in action for over 15 years, and now have a dozen albums to their credit; but it's only due to the release of their latest CD, Little Lucid Moments, on the Rune Grammofon label that they've started to get some attention from beyond their native shores. Rising to the occasion, Motorpsycho will be playing in Chicago this Sunday as they hit the U.S. for a rare stateside mini-tour.
As far as Motorpsycho's music goes, the labels "psychedelic" and "prog" have been consistently bandied about, and comparisons to mid-period King Crimson have been numerous. Fair enough, especially given how the band -- as demonstrated by Little Lucid Moments four tracks -- favors lengthy, ambitious songs and complex arrangements. But, to their credit, Motorpsycho don't seem to have much truck with many of prog's parochial jazz-, blues-, and Canterbury-rock clichés. They also pass on the usual spacious, fusion-derived grooves, opting instead for a tightly-coiled, dynamic rhythmic center -- a controlled frenzy that's brilliantly sustained thanks to the recent addition of former Gåte drummer Kenneth Karstad. In fact, it's fair to say that the trio is most impressive when they kick everything into high-velocity mode, which they do at least half the time, pushing everything into overdrive while guitarist Hans Magnus Ryan's buzz-riffage spills and sprawls and aims for the uppermost altitudes. It all testifies to some uniquely seasoned musicianly stamina, and to why the band might be one of the more impeccably-named outfits currently striding the Earth. As far as power trios and points of comparison go, the melodic hyper-chugging chords that crop up in parts of the album's 21-minute title bring to mind later Hüsker Dü -- with all the crafty alt-pop leanings -- but if the Hüskers had kept with their earlier punk/thrash ethos of shooting to set the land speed record.
Motorpsycho headline this Sunday night at the Empty Bottle, in one of only three stops on their current tour of the U.S. Grails and Nadja open. 1035 N. Western, Doors open at 9 PM. Tickets are $10 in advance, $12 at the door.