Concert Mon Jun 30 2008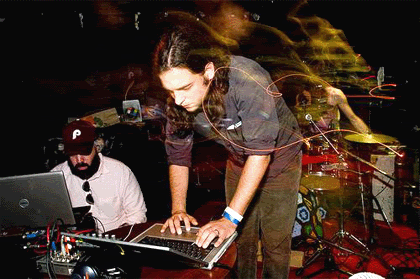 Free-form sampladelic mo-fos: Wzt Hearts
Vibrant independent music scenes don't just sprout up overnight. They're nurtured, they grow, they evolve through the efforts of a number of artists and participants.
Case in point: Baltimore, which was recently ranked as having the nation's "Best Indie Scene" by Rolling Stone magazine. When I had briefly lived in Baltimore about five years ago, the scene in question was starting to gain momentum. There were, however, only a couple of legit venues to accommodate all of the homegrown creative energy that was brewing in the city at the time. It wasn't enough to provide ample room for the variety of local bands that were coming together, let alone to book many of the notable out-of-town artists who came knocking. So people would pull together and find some way to make things happen -- often utilizing one-off, makeshift, or non-sanctioned venues. Sometimes this situation led to ideal experiences; such as being able to see Godspeed You! Black Emperor play in an abandoned church, or being one of only fifty people to circle up and face off with Lightning Bolt's brain-flattening blastitude close-up at an unannounced show in someone's warehouse loft space.
Such was the nature of the scene that the experimental Baltimore outfits Wzt Hearts and Thank You evolved out of. Various members from each group are involved in operating the city's current loft-space venue, Floristree. They're also closely allied with the Wham City collective, and both bands frequently tour and perform together. Wzt Heart's second album, Threads Rope Spell Making Your Bones, was released several months ago on the Carpark label, while Thank You's sophomore album has just appeared via Thrill Jockey. Both bands have been invariably described as "psychedelic," which seems fair enough if put in the tradition of psychedelia's tendency toward leave-no-sound-untreated sensory overload.
Working with a drummer, two laptops, and some occasional guitar, Wzt Hearts (pronounced "wet hearts," actually) is the less structured, noisier, and more overtly experimental of the pair. A mix of densely miasmic soundstorms and free-form drumming, Threads Rope Spell Making Your Bones proves in equal parts a daunting and richly seductive listen. From the sound of it, Wzt Hearts work best when it pares things back a little and lapses into a slightly more subdued and contemplative mode. At such times, the band's densely-layered sound hypnotically reveals itself to the listener piece by piece; with frontmen Jason Yorick and Mike Helta manipulating soundfiles on their dual laptops, lacing the band's sonic maelstrom with fluctuating washes of white noise, the throb of what sounds like a fetal heart monitor, and disembodied choruses of howling, moaning vocals being timestretched into oblivion.
Thank You, on the other hand, are a creature of a slightly different character. With their sophomore album Terrible Two freshly out on Thrill Jockey, the trio has proven itself a astoundingly dynamic and tumultuous unit. Terrible Two is a restless, often whiplash-inducing excursion that scorches its own trial by way of charging and jarringly angular guitarwork, incessant quasi-tribal drumming, and no shortage of whoops, hollers, ullulations, and wordless chanting. Adhering to a dense and propulsive (sometimes convulsive) rhythmic center, Thank You is at times the musical equivalent of a supernova – spinning off paroxysms and shockwaves of energy while simultaneously collapsing upon itself. In the end, the album makes a strong case for Thank You being best young band to be taken into the T-Jockey stable in some time.
Wzt Heart and Thank You play this Thursday evening at the Empty Bottle. Wzt Hearts headline, Thank You play second, and Gilgamesh opens. 1035 N. Western Ave. Doors open at 9 PM and tickets are $7.