Feature Thu Jul 03 2008
Situated in a converted warehouse loft space on the Near South Side, the Shape Shoppe serves as a cozy and highly-active hub for local fringe-defining musical activity. Owned and operated by bassist and producer Griffin Rodriguez, who first moved into the space back in 1999, the Shoppe operates as a recording studio, a rehearsal space and a revolving-door residence for various Chicago musicians. For a time, it also provided a venue for infrequent parties and musical events. The Shoppe's role as a performance venue, however, came to a sudden halt last Spring after overflow from one event attracted the ire of neighbors and the police. In the months that followed, Rodriguez undertook an extensive renovation of the studio portion of the space, upgrading it with the aim of turning it into a full-fledged recording facility.
In recent years, the Shape Shoppe's attracted its fair share of inter-city traffic, as well. The clangorous beasties in Philadelphia's Man Man recorded a good chunk of their recent Rabbits Habits LP there last year; and the likes of Akron/Family, Beirut, various members of Baltimore's Wham City collective and numerous others have also played and recorded there. As far as the local music scene is concerned, the Shoppe has become a point of convergence for a diffuse, citywide network of musicians that includes such bands such as Michael Colombia, Bird Names, Mass Shivers, Killer Whales, Chandeliers, The Diminisher, and Rodriguez's current outfit Icy Demons. With the renovation and upgrade recently completed, the studio has been ramping up its recording schedule, and this season sees the arrival of a trio of albums by some local artists who are closely allied to the Shoppe and its activities.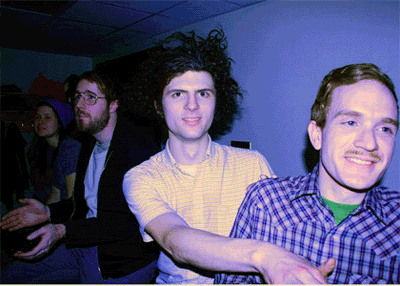 Bird Names want to know if you can draw Petey.
Bird Names are a Chicago quartet that we've talked about here before, and they've recently released their third longplayer, Open Relationship on the Portland-based Unsound label. This time around, the band recorded with the Shape Shoppe's Griffin Rodriguez manning the boards, which means that Open Relationship is the one of the band's tidier-sounding audio sojourns to date.
Granted, "tidy" proves a wildly relative term in this instance, because the music of Bird Names is an animal that isn't so easily domesticated. Why's that? Because Bird Names specialize in joyous, celebratory bang-on-a-bucket styled primitivism of the finest sort. This much is clear from the first few seconds of the album's opener "Referents," which evokes the feeling of a late-night campfire jamboree where everyone's huddled — flailing at their instruments of choice and howling to their hearts content — around the light of the flames, with a host of miscellaneous beasts and benevolent spirits hovering in the dark just beyond the trees all joining in to sing along in wordless polyphony.
By the time you get to the cryptic "Regretting Our Fathers" and the dizzy fairground romp of "Shadow Government," you might suspect that Bird Names are supplying the audio accompaniment to some obscure anthology of The World's Most Abject and Dysfunctional Stories for Children. But despite all their caterwauling and apparent looseness and rough-hewn edges, there's a wagonload of primordial pop savviness holding the songs together. Case in point, check out "Discontent Being Men," which strikes the ear like the sound of Hoagy Carmichael, Brian Wilson and Galaxie 500 all getting friendly at a luau in Hawaii after an extended layover in Little Rock.
Admittedly, the regressive, faux-naïf Wild Things act has always been a staple of the leftfield music set, especially lately. But Bird Names' music and energy is exceptionally direct and honest. The fact that they seem to come by this quality innately, without any fussy contrivances or self-conscious artiness, is what makes the arrival of Open Relationship so welcome. Depending on your own preferences, you might find this quality either unnerving or refreshingly delightful. Meaning that the fort they've built is open to all, but you might have to check some of that grown-up baggage before you can fit through the entrance.
Pablo-cruisin' on the third coast: Bronze
The Chicago ensemble Bronze is an ambitious project, so ambitious that its full lineup boasts 18 members — including a full horn section, a flank of backup vocalists, a cellist or two, and the Shape Shoppe's Griffin Rodriguez on bass. It's also a side-project for the most part, with Dylan Ryan (of Michael Columbia, Icy Demons and Herculaneum) and Scott McGaughey (currently of Chandeliers) acting as helmsmen. Given its unwieldy size, Bronze doesn't take the act on the road, and — when they can locate a venue where the stage can accommodate the full band — their around-town appearances are fairly infrequent. If you haven't had a chance to see them, then you can at least hear them, thanks to the release of their debut CD Calypso Shakedown, which also recently arrived by way of the Unsound label.
Bronze work in a semi-ironic, semi-serious retro-schtick mode, reviving a somewhat schmaltzy, formerly zeitgeist-defining sound from days gone by. The music that Bronze has taken to their collective bosom is what some have referred to as "West Coast cocaine music" — specifically that mellow, quasi-jazzy subdivision of the Yacht Rock canon that connects the dots between Chicago VII, the latter efforts of the Doobie Brothers and the blandest offerings from Jackson Browne's early-to-mid '80s output. Meaning that to the degree that Bronze "rock," they do so in an idiom that positively reeks of the sort of Burbank adult-contemporary sophistication that pervaded the post-Nixon years.
Calypso Shakedown has its generous share of impeccably-crafted moments. The kickoff "Jezebel" perfectly sets the tone for many of the album's highlight moments -- it's breezy, offhandedly plush, filled with fuzak-y minor-chord progressions via the electric keyboards, and coasts along on hornwork that soothes rather than swings. Schmoove, in a word. The band kicks it up into an amusing wonderbread boogie mode of "Chinatown" (as in: "What happens in Chinatown / stays in Chinatown"), before setting things back into a more downtempo cruise control with some ballad-like fare. Admittedly, the slower material may not be the band's strongest suit, but things take a turn with the short segue "Artist Of The Beautiful," a languid pastoral that drifts by on some weightless vocal harmonizing reminiscent of a Smile outtake, before kicking up into a more assertive mode with "Only In The Morning" and the bouncy audience-pleaser "On The Clock."
The Bronze guys claim Michael Mann as one their primary influences; but beyond the band's predilection for a certain type of headwear, it's hard to nail down how said influence figures into their music. Judging from how much the piano motif on the bridge of "Jezebel" sounds echoes the theme from "Hill Street Blues," I'm inclined to instead call the key source of inspiration in favor of TV composer Mike Post.
Devils in the deep freeze: Icy Demons
Speaking of Michael Mann, Icy Demons have titled their new album Miami Ice. It's their third LP since bassist Griffin "Blue Hawaii" Rodriquez and Man Man percussionist Chris "Pow Pow" Powell formed the band after their prior outfit Need New Body called it quits a few years back. Whereas the Demon's 2004 debut, Fight Back!, suggested that the band might be little more than a scrapbook side-project for Rodriguez and Powell's other efforts — leftover scraps from Bablicon's prog-y jaunts mixed with the Waitsian clatter of Man Man — they've since moved in their own direction, and have been behaving more and more like a focused, cohesive entity ever since. They've largely smoothed out all the creases and the fits of hububbery, aiming instead for a cooler, more even-handed style and fully-crafted songs.
On Miami Ice, Icy Demons are once again playing five members strong, additionally bolstered by a variety of friends and guest players like Jeff Parker and Josh Abrams. Like the band itself, the album's a shapeshifting affair, one that makes all sorts of moves across the stylistic checkerboard. There's still a restless, agitated quality to the Demons' music; but these days it's more subdued, its antsier elements cushioned and sheathed under plenty of slick melodies and clever arrangements. As a whole, the album amounts to an astute balancing act — the playing off of bubbling tensions against polished surfaces — from the lurching psychedelia of "1850" to the gliding Brazilian rhythms of "Summer Samba" to the minimal, Kraftwerkian pulse of "Centurion."
As with the Bronze LP, Miami Ice exhibits Rodriguez & company's increased gravitation toward certain sonic affinities and nuances — particularly for lush, in-the-round arrangements held together with subtle, semi-jazzy rhythmic shifts, foregrounded keyboards (be it Fender Rhodes or, in the case of Icy Demons, Farfisa organ), and plenty of rich vocal harmonizing à la Sean O'Hagan and Stereolab's prior excursions into Brian Wilson's endless summerscapes. In the end, it's an intriguing mixture, a combination which — theoretically — shouldn't make for a viable equation. Yet somehow it falls together so seamlessly that everything ends up making its own sort of brilliant and beguiling sense in the end. And what that "somehow" comes down to is how local music is being shaped in the Shoppe these days.
Click here to listen to a Muxtape mix of tunes from the new albums by Bird Names, Bronze, and Icy Demons.

Upcoming Chicago Dates:
July 6 – ICY DEMONS @ Ronny's
July 10 – BIRD NAMES @ Mr. City (in West Town)
July 19 – ICY DEMONS @ Pitchfork Music Festival
Bird Names' Open Relationship and Bronze's Calypso Shakedown are both available on the Portland-based Unsound label. Icy Demons' Miami Ice will be released on the band's own recently-launched Obey Your Brain label on July 12. A fourth Shape Shoppe-related album, Chandeliers' The Thrush, was recently released in the U.K. on the Pickled Egg label, and will be available in the U.S. via Obey Your Brain some time in September.
About the Author:
Graham Sanford is a writer, editor, former radio DJ, armchair musicologist and incessant doodler who live and works in Chicago. He contributes to a number of publications such as Creative Ennui, The Proletarian Gourmet, and Gronk. He is currently fielding publishers for an offer on his recently compiled anthology The World's Most Abject and Dysfunctional Stories for Children.