Concert Tue Feb 03 2009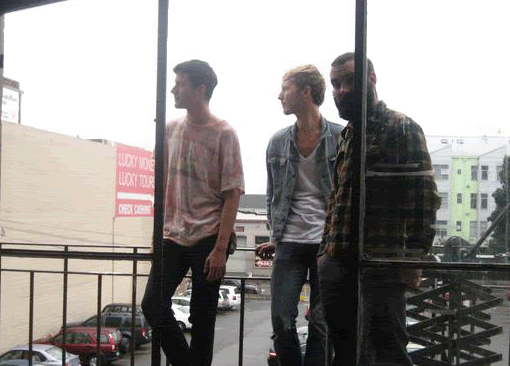 Daniel Martin-McCormick and Jacob Long of the Bay-area trio Mi Ami once seasoned their chops as former members of the D.C. art-punk ensemble Black Eyes. Judging from the sound of Mi Ami's debut album Watersports, they've brought some of the Eyes' jagged, agitated energy aboard for their latest musical enterprise. Martin-McCormick squeals and shrieks while wrangling out furrows of scratchy riffage and short peels of feedback. All of that aside, the bulk of the unit's focus falls squarely in the rhythmic department -- with the trio tightly interlocked in navigating the turns of their own breed of knotty, spiraling tribal-funk. And while they douse it all down with generous amounts of reverb, their echo-soaked "drum punk" sounds like it owes less to the spliffed-out spaciousnees of traditional Jamaican roots-rocker dub than it does to, say, the delirium of a fever dream. It seems the band's won over its share of enthusiasts. As one scenester put it on a recnt music-blog post, "I never get to shoot any pictures of this band, because I'm too busy dancing during their sets."
Mi Ami's debut album Watersports is due out on Touch & Go affiliate Quarterstick Records later this month. They'll be playing two dates in Chicago this month as they crisscross the country on their current tour. This Saturday evening, February 7, they're playing at the Hideout; headlining on a bill with Onyou in the supporting slot. Doors open at 9 PM and tickets are $8. 1354 West Wabansia.
Also: The band returns to play the AV-arie on Tuesday, February 17. They're slated to open for Thrill Jockey recording artists Thank You. The show on the 17th will be the official album release party for the release of Watersports, and it's an all-ages event. See the Empty Bottle's website for more details.
[audio]: Mi Ami - "Echononecho" (via Pitchfork)
[video]: Mi Ami - live at the AV-arie, 02/2008