Feature Thu Feb 26 2009
When I first heard of the Chicago International Music and Movies Festival, I was a bit surprised no one had thought of this sooner. Considering our thriving music scene and numerous successful film festivals, Chicago seems like a prime location to showcase the bridge between these two art worlds. The inaugural festival is taking place March 4th–9th at various venues around the city, with several guest speakers and live music performances. I had the opportunity to preview a handful of the films before the festival, and there are many gems to be found screening during these six days.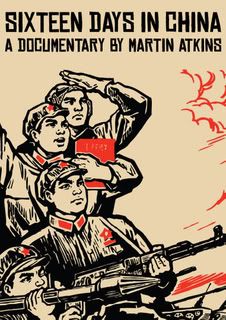 16 Days in China
This documentary follows musician and founder of the Chicago's own Invisible Records Martin Atkins on an exploration through China's emerging music scene. The film portrays Atkins as arrogant at times and his obvious disdain for his assistant is a bit off-putting. However, this man is very knowledgeable about the music industry, and with a resume that includes Public Image Ltd., Pigface, Killing Joke, a book on touring in a band, a column for Suicide Girls, and a teaching gig at Columbia College, he's able to put his money where his mouth is. The trip spawned two compilation albums under Invisible China (a collaboration between Invisible Records and Bloodshot Records) titled Look Directly Into the Sun: China Pop 2007 and China Dub Soundsystem.
The real treat of this film are the scenes shot at D-22, a club in Beijing reminiscent of New York's CBGB's (the New York Dolls even stop by for a performance during the film). The bands playing at D-22 could fit in at any punk rock club in the U.S., and as Atkins points out, many of these talented musicians play several different instruments for separate bands. The killer drummer you see in one group will be rocking the bass a few minutes later in another band. The existence of D-22 all the way on the other side of the world only reaffirms that music is a universal language that transcends our cultural divides.
16 Days in China will be screening at CIMM Fest on Saturday, March 7 with Martin Atkins on hand after the screening for the Future of Music discussion panel. The screening takes place at the Chicago Cultural Center, 70 E. Washington, at 2pm.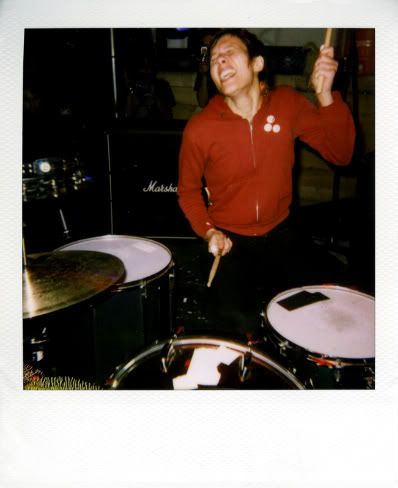 Todd P Goes to Austin
Todd Patrick is a DIY booker from Brooklyn. Upset by the corporate stronghold that has taken over Austin's South by Southwest Festival, Todd sets out to book shows right outside the festival grounds utilizing his independent mindset. Todd requires that his concerts meet two standards: cheap and all ages. He books his shows at a small venue in the outskirts of Austin, and even at one point rents out a storage facility to host a few bands inside. I can remember catching a few concerts in my teenage years in friends' basements and even once and awhile in an abandoned warehouse. I remember how special these experiences were to me, and how they helped form my early love of music. This film brought to mind the Chicago Promoter's Ordinance, and how it would kill the chance for teenagers today to have the same experiences. Todd P Goes to Austin features performances by Matt & Kim, The Death Set, Dan Deacon, Mika Miko, and Team Robespierre, as well as a delightful chat with Kim of Matt & Kim on the values of taking a dump in the band's van.
Todd P Goes to Austin is showing Wednesday, March 4th at St. Paul's Cultural Center, 2215 W. North Ave. The screening starts at 8 pm, but if you can make it a little early, Jodie Mack's delightful short film, Yard Work is Hard Work, will be premiering directly beforehand at 7 pm. Live music from Chicago's own Percolator follows the two films.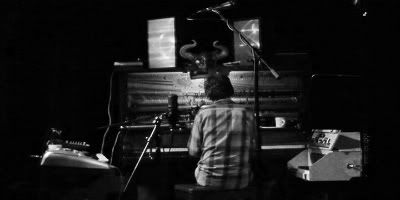 Largo
Largo the movie, like Largo the LA club, takes a no-frills approach to live music. The club doesn't fool around — not only are electronics banned during a concert, but talking is also not permitted. The film is shot in black and white with little camera movement. Largo opens with a piano solo by the late Elliott Smith, and also includes performances by Andrew Bird, Fiona Apple, Sarah Silverman, Flight and the Conchords, and Jon Brion. It's edited in such a way that it feels like all these incredible comedians and musicians are performing in the best one-night ticket ever. I even had to check the film's website after a few performances to find out that wasn't the case. The camera is placed up close to the musicians, making the movie feel like a private concert for one. It's completely raw and showcases musicians in a rare form for a concert documentary — with no distractions.
Largo premieres Saturday, March 7th at St. Paul's Cultural Center, 2215 W. North Ave. The film starts at 9 pm.
Other highlights from the festival include video music collective Encyclopedia Pictura, featuring the works of Sean Hellfritsch, Darren Rabinovitch, and Isaiah Saxton, who have made videos for Evergreen, Grizzly Bear, and Bjork. Mockumentary Becoming Pony Boi shows TV producer Sergio Myers' attempt at becoming a hip hop superstar, while Two-Headed Cow explores the duality of Flat Duo Jets' frontman Dex Romweber's personal and professional life.

And of course, you've probably heard of a little documentary called Ashes of American Flags (we may have mentioned it here in Transmission just a few times). This film showcases Chicago's Wilco through five nights of concert footage from 2008. The film will make its Chicago debut to conclude the festival on Monday, March 9 at the Music Box Theater. Director (and Fugazi drummer) Brendan Canty will be on-hand for a Q&A after the screening.
Catch the inaugural CIMM Fest March 4-9th at the St. Paul Arts Center, the Double Door, and Schubas, along with select other venues around the city. Individual tickets and weekend passes for all CIMM Fest screenings can be purchased at brownpapertickets.org. Tickets for the evening concerts will be discounted with the purchase of a movie screening ticket. Check out cimmfest.org for further information.
About the Author:
Stephanie grew up in one of those small suburban towns two hours away from the city where the residents still considered themselves Chicagoans. Having now lived in Chicago proper for five years, she feels she is finally gaining some street cred. She is a science fiction and Scrabble enthusiast and embraces all things nerd. Her lifelong goal is to acquire the perfect avocado. You can usually find her reading underneath a tree, sipping vodka and cranberry at a dive bar, or dancing horribly at concert venues around the city.