Concert Tue Feb 24 2009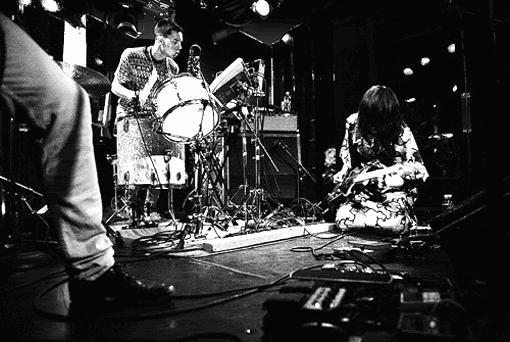 Judging from their activity, it seems These Are Powers are a band who don't sit still for long. Only a few months after the release of their EP Taro Tarot, the trio arrived in Chicago for their latest Windy City summering stint and began trotting out a batch of new material. Much of what they debuted during their summer gigs has now turned up on a new release, All Aboard Future, which dropped via the Dead Oceans label earlier this month.

While the last couple of releases by These Are Powers reveal a band in perpetual evolution, the new recording demonstrates just how much their current sound has developed since they've brought Chicago-based drummer and beatmaker Bill Salas (a.k.a Brenmar) into their ranks. Guitarists Anna Barie and Pat Noecker still stick by their no-wave/industrialist roots. (Guitars that sound like a power drill, or a bassline that ker-chunks like a nail gun? Check, and check.) But on All Aboard Future, the trio peels away some of the sonic strata of scrapyard skree and skronk and steer toward hazier, more atmospheric realms -- the tunes are given more room to breathe as some of the noise loosens up and simmers down into a sublimating drone. And Anna still shrieks and wails, and Pat sometimes summons up spooky narratives -- something like an invocation that drifts from behind the trees of some dusky, vine-choked bayou. But this time around the rhythms (electronically processed or otherwise) often take a foregrounded role, with Salas -- not content to merely bang around in the engine room -- taking the helm to guide the tunes through clouded waters. At its most mysterious and evocative moments, All Aboard Future has the delirious feeling of the underside of a waking dream.
These Are Powers will play at the Hideout this Friday evening, headlining as they hit their sometimes homebase of Chicago in the midst of their current U.S. tour. Local pop-brut favorites Bird Names open. A special Hideout dance party -- featuring Gatekeeper along with DJs Hunter Hussar (of Mahjongg) and Alex Valentine -- follows. 1354 West Wabansia. The show starts at 10 PM and tickets are $10.

[video]: These Are Powers - "Cockles"
[video]: These Are Powers - On VBS.TV's "Practice Space"
[audio]: These Are Powers - "Life Of Birds"