Review Tue Feb 24 2009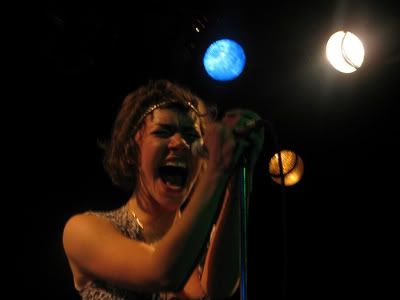 Chicago's own Company of Thieves have been creating a buzz on the national level the past few months, following their single "Oscar Wilde" being the featured discovery on iTunes and a killer performance on Last Call with Carson Daly last month. Today the band is re-releasing their debut album, Ordinary Riches, with new artwork and bonus tracks on Wind-Up Records. They just released their debut music video for "Oscar Wilde" via iTunes and will also be hosting a live chat today at 2 pm via their MySpace. As one of the most talented group of artists coming out of our fair city right now, I'm expecting Company of Thieves to be the band to watch in 2009.
I had the pleasure of catching them at the Double Door on Thursday night, opening for Thriving Ivory. When CoT took the stage, my friend Doug turned to me and said, "Some artists make music because they like to. She seems like the type who makes music because she has to." Way to hit the nail on the head, Doug. Singer Genevieve Schatz's passion is infectious, and her powerhouse energy is further heightened with the intensity of guitar player Marc Walloch and drummer Mike Ortiz. The band has a very cool bohemian vibe, with the combination of a classic rock sound and the softness of sweet Regina Spektor-ish vocals. Genevieve is completely mesmerizing during soulful tracks such as "Quiet on the Front" and "Pressure", but the real treat of their live show is their danceable songs "In Passing" and "Oscar Wilde".
Catch their television debut on Last Call with Carson Daly below:

[MP3] Company of Thieves - "Oscar Wilde"