Concert Fri Feb 27 2009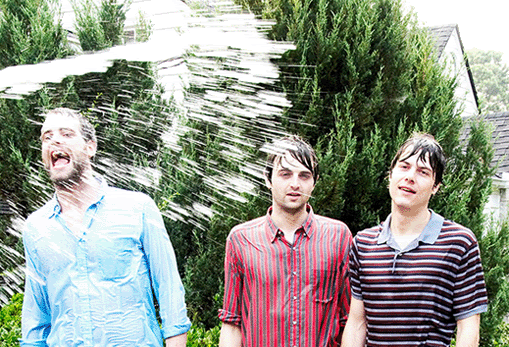 The city of Atlanta, GA has offered up its share of notable indie rock artists in recent years, and 2008 saw the emergence of a new addition to that lineage -- the trio All the Saints. The release of the band's debut Fire on Corridor X via the Killer Pimp label caught the attention of the folks at Touch & Go, who quickly re-issued the album to wider distro back in September. The album would later turn up on several bloggers' lists as one of the most overlooked releases of 2008, and prompted a number of reviewers to reach for such descriptives as "psychedelia" and "Southern shoegaze." While of few of the tunes on ...Corridor X sprawl in a mood of come-down languidity, the trio's penchant for heavy, clangoring riffs and propulsive drum-fills points in the direction of their flatland Alabama roots. And when it comes to melodic hooks, they're a lot closer to Dead Confederate than, say, Deerhunter -- if the former red-dirt denizens ditched the quasi power-ballad fare and had been raised on a steady diet of Hüsker Dü.
Seattle-based Post-hardcore/prog-screamo/whatever heavyweights These Arms Are Snakes are the headliners for the evening, as they finally make an extensive nationwide tour in the wake of their previous album Tail Swallower and Dove, which released via the Suicide Squeeze label this past Autumn. The band's had a number of connections to Chicago's metal scene in recent years -- touring with Windy City artists Pelican and Russian Circles. (In fact, when Russian Circles recently found themselves without a bassist, TAAS's Brian Cook stepped in to fill the breach as an adjunct member.) The band's also reportedly slated to release a split single with All the Saints via Touch & Go some time in 2009.
The show gets underway at Subterranean at 9 PM. All the Saints open, Darker My Love plays second, and These Arms Are Snakes headline. Admission is $10, and the show is 17 and up. 2011 N. Chicago Ave.
NOTE: All the Saints will also be playing a brief, free in-store performance at the Wicker Park location of Reckless Records on Saturday afternoon. 1532 N. Milwaukee Ave., and the performance is at 4 PM.
[mp3]: All the Saints - "Sheffield"
[mp3]: All the Saints - "Fire on Corridor X"