Concert Sun Mar 01 2009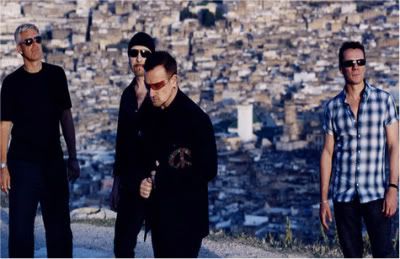 U2 have been playing a series of surprise concerts around the globe before they embark on their official tour (dates to be announced March 9th) in support of their new album, No Line on the Horizon. They'll be stopping by Chicago next Tuesday, March 10th at an undisclosed venue for a secret show (though I'm fairly certain it won't stay a 'secret' for long). Ms. Shirley Manson is rumored to be hosting the event. A quick Google search tells me the Metro and Vic are both free March 10th, although I'm not sure Bono's ego would fit into venues that tiny. The Riv or Aragon seem like more viable options, and both venues are free that night as well.
Details are still a bit sketchy, though it looks like both 101.9 The Mix and 93 XRT are going to be giving away tickets this week. Good luck U2 fans! I'm sure it will be an unforgettable night to anyone who can finagle a way inside.
Edit: While it's elusively being billed as an "intimate event", some sources are saying this will be a concert while others claim U2 will be DJing only. Either way, U2 fans are flipping their collective wig.
(Photo via U2.com)