Concert Tue Mar 10 2009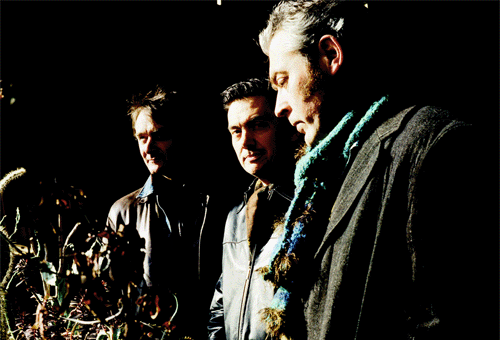 When asked about his recommendations for dinner music in a recent GQ profile, high-profile Chicago restaurateur Donnie Madia responded, "Tindersticks. Any of their records...can work well in any dining room." Funny how tastes evolve over time. Especially seeing how when Tindersticks first appeared on the indie music scene in the early-mid 1990s, the common opinion was that their tunes were ideal fodder for Serenade Hour In The Lovesick Ward of a methadone clinic. But that was then.
Over the course of six albums, the U.K.-based band earned a cultish fan base before ceasing activity in 2003. After a five-year hiatus from recording and touring, they returned to the spotlight this past April with the release of a new album, The Hungry Saw. Even though the band now sports a revised line-up, core members David Boulter, Nail Fraser, and frontman Stuart A. Staples are still at the helm. And from the sound of the recent album, nothing much has changed with the band's music. There's the easy tempo blue-eyed soul that drives "Yesterday's Tomorrows" home, the lounge-ish Latin shuffle of "E-Type," and -- on the punchier side of things -- bursts of yakkety rockabilly guitar punctuating the otherwise sparse "Mother Dear." In the end, The Hungry Saw features a dozen new achingly delicate arrangements, all of them woven together with strains of piano, vibes, flutes, brass, and subtle string accompaniment.
And through it all, Staples's world-wearied baritone croon guides the listener through gentle tales of heartbreak, regret, and lessons hard-learned at a long journey's end -- of the love that can be salvaged and clung to once all the damage has been done, the tears have dried, the tumults and torments of passion have spent themselves, and the debris from all the smashed furniture is a distant memory. In other words: Tindersticks doing what they've always done best. So bon appetit!
Tindersticks will be appearing in Chicago this Thursday evening as they finally bring material from The Hungry Saw stateside for their first North American tour in over five years. They'll be playing at the Epiphany Episcopal Church, which should prove something of a complimentary setting for the group's stately performance. Not only that, but Jon Langford and Sally Timms are scheduled to open in the warm-up slot. The show begins at 8pm, tickets are $20, and it's an all-ages show. 201 S. State Street. Tickets can be obtained through the Empty Bottle's web site.
[video]: Tindersticks - "Introduction to The Hungry Saw"
[video]: Tindersticks - "Yesterday's Tommorrows" (live)
[video]: Tindersticks - "Rented Rooms" (1997)