Concert Tue Mar 31 2009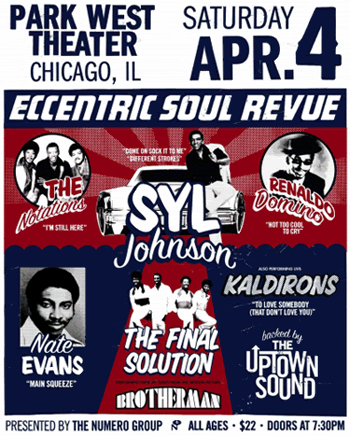 The month of April is going to be a busy one for the folks at the soul-slinging Chicago-based Numero Group.
Firstly: this Saturday evening at the Park West Theater, the label presents its first-ever live event, The Eccentric Soul Revue. The evening's billing features sets by top-flight R'n'B veterans Syl Johnson, The Notations, and Nate Evans; as well as reunion performances by Renaldo Domino, The Kaldirons, and the Final Solution. Chicago's own deep groove merchants The Uptown Sound will also be on hand to provide backup throughout. It's an all-ages show, tickets are $22, and it gets underway at 7:30 PM Saturday.
The label's also putting the finishing on the next edition in their Eccentric Soul series of archival anthologies for a scheduled release date in late May. Entitled Smart's Palace, the volume will chronicle the story of the Smart family, who were prime movers and organizers on the R'n'B scene in Witchita, Kansas in the 1960s and early '70s. This atop their deluxe audio & DVD package Local Customs: Downriver Revival, which officially releases this week.
And stacking one more on the heap, the Numero's also serving up their own contribution to Record Store Day this coming April 18. For the occasion, the Group's putting out a special collector's edition tailored specifically for the occasion -- the vinyl-only compilation This LP Crashes Hard Drives, which will feature 10 previously unreleased tracks from the label's vaults.
See Numero's website (and blog) for further details about all of their current activities, as well as the official Record Store Day site.