Concert Wed Apr 01 2009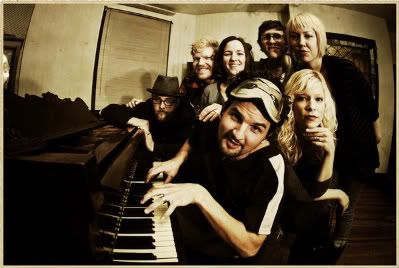 Photo by Cody York via the band's MySpace
Minneapolis-based Cloud Cult is the type of band that makes you want to be a better person. Eschewing offers from major labels, singer Craig Minowa created Earthology Records, built with recycled materials and run on geothermal energy. They use 100% post-consumer recycled or reused materials for all of their merchandise. The band accepts donations of old CD jewel cases, which they then clean and use to package their new albums, and the scraps created from manufacturing the CDs themselves are recycled into milk cartons. They even plant ten trees for every 1,000 albums sold. How cool is that?
It's hard not to fall in love with these guys at first listen. Their latest album, Feel Good Ghosts (Tea-Partying Through Tornadoes), is a celebration of life and love, without being preachy about their ideals. The songs envelop you with a big indie collective-type sound you'll find with artists like The Arcade Fire or Polyphonic Spree, only with about half the amount of people actually playing instruments. They've got two visual artists in the band, who create paintings during each show which are then auctioned off at the end of the night. I don't think they could get any more charming.
Cloud Cult is opening for Margot & the Nuclear So and So's tonight at the Metro, 3730 N. Clark St. The show starts at 8:30 and is $15. 18 & over.
Check out the video for "Everybody Here is a Cloud" below.