Concert Mon May 18 2009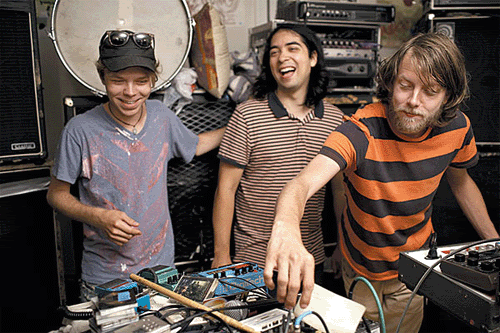 Rumor has it that Repo, the newest release from the Brooklyn-based experimental music trio Black Dice, has a few of the band's longterm devotees crying "sell out!" It's difficult to see what any sort of fuss might be about, especially considering that Repo doesn't signify any big change in artistic direction. As with their other four albums, the group's sticking with their usual technique of tweaking and twisting samples and loops into lopsided rhythms. But Repo finds them forgoing some of their prior austerity and greatly expanding their sonic vocabulary in terms of source material. And this time out the tracks are denser and more richly-layered constructions, with the guys running loops and sounds around a deeper acoustic space, bouncing them about like tennis balls in a clothes dryer.
The end result is an album that contains a newfound sense of playfulness and some genuinely hilarious moments. Case in point, the woozy percolating bloopiness of "Lazy TV," and the delirious psychedelic cartoon stomp of "Glazin" as it uncoils around the wobbly sounds of a Hawaiian slide guitar and (what sounds like) loops pinched from "Crimson and Clover" and "Doo Wah Diddy Diddy." If anything, it all reveals a group that's finally reached a certain comfort level with what they're doing. Enough so, that they can loosen up and have a little fun with their chosen mode of noise-making.
Black Dice will be playing as the headlining act at the Empty Bottle this Wednesday night. Supporting for the evening is hyper-prolific Ann Arbor noise-rock heavies Wolf Eyes. The two acts have teamed up for several recordings over the years, mostly via a series of limited edition CD-Rs from on the Eye's American Tapes label. Whether this means fans can expect some collaborative activity for tonight's show is uncertain, but it still makes for a double-whammy billing. Ape Technology opens. Doors open at 9:30 PM, and admission is $12. 1035 N. Western Ave.

[video]: Black Dice - "Tree Tops"