Concert Sat May 23 2009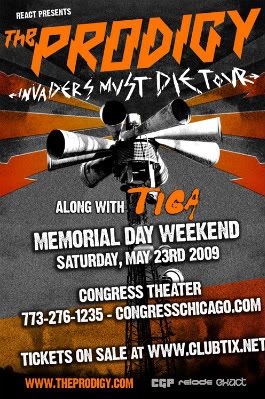 It's been five years since the last time we heard from The Prodigy, but they're making one hell of a comeback. Invaders Must Die, the new album which the band self-released, jumped to #1 on the UK charts and has gotten worldwide recognition. And for good reason - this raucous, soul-blasting album proves the band is back with a vengeance. Lucky for us, they're hitting up the Congress Theater tonight, which will undoubtedly be a sweaty fun dance party. I had the chance to chat a bit with Maxim, The Prodigy's MC/vocalist, on the phone last week (albeit with a few technical difficulties) about the upcoming show and his thoughts on the album.
"It's kind of like a new thing for us, getting back together as a band and getting back into the studio. This is kind of like a family united. It's triumphant. You can hear the togetherness of the band on the album." explains Maxim.
The track I find myself playing constantly, "Run with the Wolves", features none other than Foo Fighter Dave Grohl. "He's a good friend of ours, so it happened quite naturally. It wasn't a case of our manager contacting his manager - Dave contacted us and said he likes creating beats. He had just finished a tour, so we went to the studio and laid down some beats. It happened quite quickly and we came together on a natural level."
What can we expect from tonight's show? According to Maxim, "full-on energy."
The Prodigy play tonight at the Congress Theater, along with Canadian DJ/producer Tiga. Tickets are $35 and can be purchased here. The show is 17+ and starts at 7 pm.