Event Fri Jul 24 2009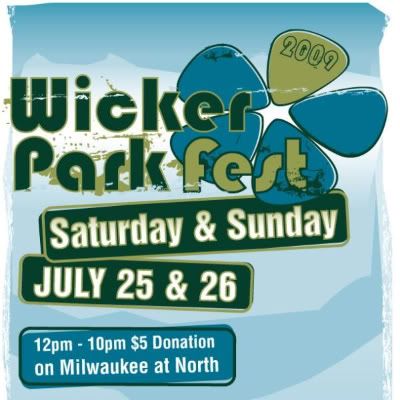 Wicker Park Fest continues to bring the most top-notch entertainment of any street festival every year, and now they've completely outdone themselves with this weekend's line-up.
Headlining the North Stage Saturday night is Black Francis (Frank Black) and wife Violet Clark's new project Grand Duchy. I've been listening to their debut album Petits Fours all week and can't get enough. Violet in particular stands out on the album, with a dream poppy voice that reminds me of Kim Deal. (And if you're unable to make it to Wicker Park Fest, they'll also be playing tonight at Subterranean.) Hailing from Toronto, electronic act The New Deal will be headlining the South Stage. Other highlights include Scott Lucas (of Local H)'s new project Scott Lucas and the Married Men, California rock band The Night Marchers, and Chicago pop rockers Treaty of Paris, who are currently working on the follow-up to their debut album Waking Up the Dead and are about to embark on a tour with Ha Ha Tonka, who we recently profiled.
Sunday's line-up includes two fantastic headliners as well - folk rock act Elvis Perkins in Dearland and indietronic group Junior Boys. One of my favorite local bands, Company of Thieves (who I've gushed about before), will take on the South Stage at 6:25 pm. Margot and the Nuclear So & So's, who I always think of as a local band because they play here so often even though they're actually from Indianapolis, will be playing the North Stage at 7:55 pm. If you're looking to dance, the Center Stage will be where it's at. DJs Kid Color, The Hood Internet, and Zebo will be spinning, among others, before local rockers The Smoking Popes take the stage.
The fest is happening this Saturday and Sunday from 12 - 10 pm at Milwaukee and North Ave. The festival is all ages and a $5 donation is suggested at the gate. Be sure to stick around afterward to check out the Thriller Zombie Walk, or head over to the Congress Theater for the after-party with Jamie Lidell on Saturday night. Check below for the full festival schedule.
SATURDAY, JULY 25th, 2009

SOUTH STAGE
8:45pm THE NEW DEAL
7:00pm FUTURE ROCK
5:45pm HEAVYWEIGHT DUB CHAMPION
4:45pm MICKEY FACTZ
3:30pm TWO FRESH
2:30pm THE WONDERFUL WORLD OF BALD EAGLE
1:30pm AUTOBODY

NORTH STAGE
9:00pm GRAND DUCHY
7:55pm THE NIGHT MARCHERS
6:45pm RETRIBUTION GOSPEL CHOIR
5:40pm BLOODIEST
4:35pm VAMPIRE HANDS
3:30pm THE POISON ARROWS
2:25pm OR SO IT GOES

CENTER STAGE
8:00pm TREATY OF PARIS
7:00pm DJ MATT ROAN
6:15pm THE GLAMOUR (Live Set)
5:15pm MONEYPENNY (Rocktapussy DJs)
4:30pm CAVASHAWN
3:30pm SCOTT LUCAS & THE MARRIED MEN
3:00pm SR-71
2:00pm SCOTT MILLER
1:00pm DJ PR3-FROSH

SUNDAY, JULY 26th, 2009

SOUTH STAGE
9:00pm JUNIOR BOYS
7:30pm BIG SAM'S FUNKY NATION
6:25pm COMPANY OF THIEVES
5:15pm VAN GHOST
4:10pm BACKYARD TIRE FIRE
3:10pm GLOSSARY
2:10pm B.S. BRASS BAND

NORTH STAGE
9:00pm ELVIS PERKINS IN DEARLAND
7:55pm MARGOT & THE NUCLEAR SO & SO'S
6:45pm WILLIAM ELLIOT WHITMORE
5:40pm U.S. ROYALTY
4:35pm ROCK PLAZA CENTRAL
3:30pm THE MODERN SKIRTS
2:25pm EMPIRES

CENTER STAGE
8:00pm SMOKING POPES
7:00pm DJ ZEBO
6:00pm EBONY BONES
5:00pm THE HOOD INTERNET (DJ Set)
4:00pm THE ELMS
3:00pm KID COLOR
2:00pm SILVERGHOST
1:00pm DJ PAPA G