Review Wed Oct 28 2009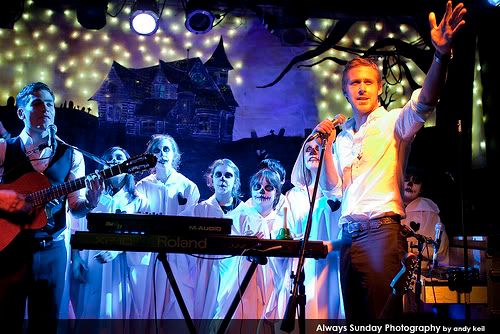 Photos by Andy Keil

When I hear the phrase "actor-turned-musician", I normally think of boring vanity projects set to stroke one's ego, with few exceptions. Luckily, Ryan Gosling's new project Dead Man's Bones falls into the 'exception' category. The band stopped through Chicago last week for two sold-out shows at Schubas in support their ghoulish new self-titled album. The album can be a bit hokey at times but live the same songs basically sound like Arcade Fire gone trick-or-treating (see: "In the Room Where You Sleep" album version vs. live version). Think ghosts and goblins plus theatrical songwriting plus a children's choir - kitschy elements but it works in a pleasantly surprising way.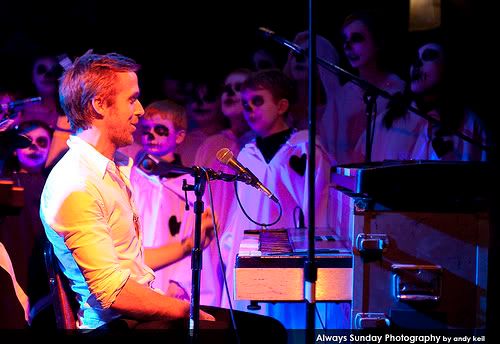 In addition to members Gosling and Zach Shields, the band hauled in the full St. Andrew's School choir, plus singer Andye Jamieson and other backing band members, which equaled more human bodies than I ever imagined could fit on Schubas' modest stage. The choir lent itself well to some of the bigger songs like "In The Room Where You Sleep" and "Dead Man's Bones", but at points the entire schtick teetered the line of being too ostentatious, with songs like "My Body's a Zombie For You". Those kids never failed at being completely adorable, though.
With Mr. Noah Calhoun in tow, the audience was very predictably filled with twenty-something females. In such a crowd, you would think it would be darn near impossible to upstage Gosling himself. Enter young Zoe, a singer from St. Andrew's. She completely stole the show with her rendition of the Nancy Sinatra classic "Bang Bang (My Baby Shot Me Down)", first dramatizing her own death and then rising up as a ghost behind a drawn sheet and faint light. It was undeniably the most memorable performance of the night.
It's hard to say where the band can go from here. Stick with the kids and the spooky paranormal themes, and they may become too much of a niche act, but without these ingredients they might turn into another dull (and ultimately forgotten) actor-turned-musician band. Nevertheless, that night at Schubas was charming and got me in the spirit of Halloween. And guess what? Gosling loaded his own equipment in and out of the venue. Ego I think not.