Concert Fri Dec 18 2009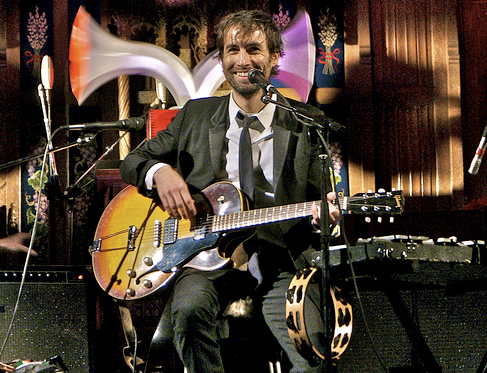 Photos courtesy of Joshua Mellin

Gezelligheid is a Dutch word meaning "cozy" - not in size, but in ambiance. I've had the pleasure of seeing Andrew Bird in much smaller venues than the loop's Fourth Presbyterian Church, but the church was definitely gezellig during Andrew's performance Tuesday night, the second of four "Gezelligheid"-themed concerts in Chicago.
This night was anything but your typical Andrew Bird concert. Having recently injured his foot in Minneapolis, Andrew meekly limped onto stage and spent the rest of the evening planted atop a cushioned chair. This not only meant that he couldn't bounce around stage as per usual, but he also could no longer use his foot pedals, which gave the show an unintended theatrical element as he had to wave his bow in circles in the air to signal when he wanted his double-horn speaker to spin.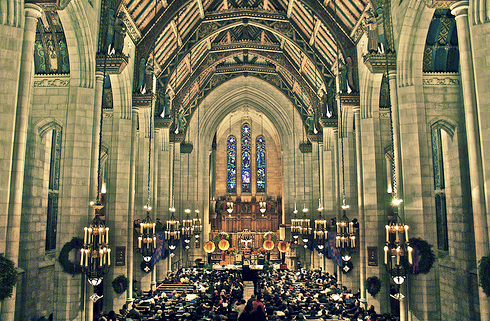 My eyes were frequently drawn toward the large Gothic stained glass window exuding a spectrum of color behind the stage. Andrew highlighted this gorgeous background with subtle changes of pink, green, and blue lighting, filling up the high ceilings with even more hues. At times, the back lighting was turned off and a spotlight shined on Andrew from the bottom of the stage, giving him a larger-than-life shadow upon the altar.
Aside from "Natural Disaster" and "Scythian Empires," Andrew strayed from his typical set list fare. Instead, we were treated with a set of what Andrew described as similar to a jam session he'd have while practicing alone in his barn. This included many instrumental pieces, at least one of which Andrew admitted he'd already written lyrics for, but just wasn't ready to share them yet. As is common for Andrew, he played a few tunes which originally started out from other songs, or had lyrics switched around from other songs. Most notably, we found out that "Imitosis" had originally derived from Andrew's desire to cover Sesame Street's "Capital I", however the fine folks over at the Sesame Street camp wouldn't allow him to use the lyrics. The biggest stand-out of the night was his new song "Lusitania," which derived from a lyric he originally intended for the orchestration that ended up becoming "Natural Disaster".
The night left me joyful and warm, even in the blistering cold of a Chicago winter's night. This must be what "Gezelligheid" is all about, even if I still can't pronounce the word correctly.