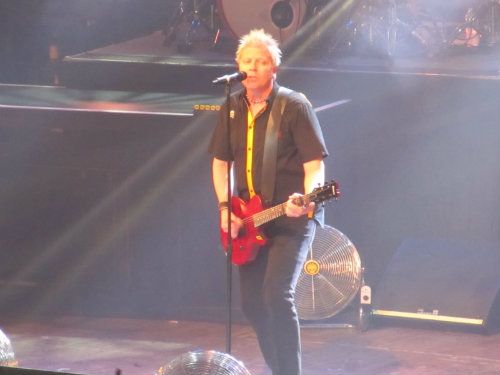 Photo by Stephanie Griffin
Before we all head off to the new incarnation of Riot Fest this weekend, the festival kicked off with some familiar territory -- the fest's old stomping ground, Congress Theater. Saturday and Sunday we head to Chicago's first outdoor Riot Fest, complete with a carnival and luchadores, over in Humboldt Park. Friday night had no frills, just a great line-up of bands playing a dark, grimy club with plenty of mosh pit space. This is the Riot Fest I am used to.
Riot Fest is not only been expanding in size in 2012, but also in genres. This year brought a band a little more glam and poppy than what we'd normally find at the festival, Neon Trees. Considering they were the only band on Friday night's line-up with recent radio hits, you'd think that they would have drawn a bigger crowd. Instead, they were met with a lot of booing and people screaming "You suck!" throughout their entire set. I felt bad for them, because the band were certainly giving it their all. They did have a few sound issues, which were no fault of their own -- the Congress Theater's sound system doesn't put up well with heavy bass lines. Plus I guess fans of The Offspring couldn't handle a slightly effeminate singer jumping around the stage in skinny jeans. On stage, they didn't pay the booing any mind, the band was solid and singer Tyler Glenn is a charismatic front man, so I'd consider them the best performance of the night.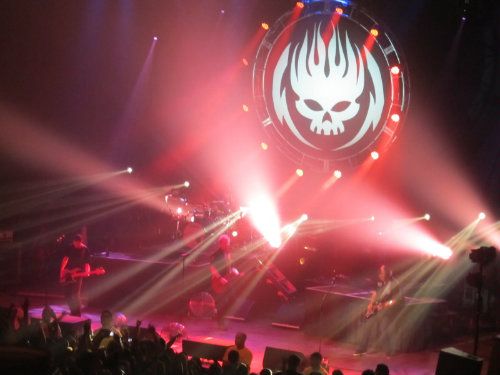 Photo by Stephanie Griffin
I will admit, I went into this with a bit of a chip on my shoulder because of The Offspring. The last time I had seen them live was back at Q101's Jamboree '99, which was the third concert I'd ever attended, my first music festival and my first time at First Midwest Amphitheater (back then the New World Music Theater). I'd been having a great day until The Offspring performed and Dexter Holland ordered the audience to throw all of their garbage on stage after they finished their set. I standing in the front of the lawn at the time, which meant my little 14-year-old self got pelted and covered with beer, remnants of gross festival food, even glass. I was not happy. On top of that, it delayed the Red Hot Chili Peppers' performance. I'm no big RHCP fan, but regardless of my opinions on the band, it was a dick move.
So I've got a bit of a grudge against Dexter Holland and the band in general, but I'll have to admit, their performance was fun. My enjoyment of their set was mostly in a nostalgic sort of way -- I was actually surprised at how many of their songs I recognized considering I can't remember ever owning one of their albums, and how many radio hits I'd forgotten they'd had. That being said, back when I saw them in '99 they were a hell of a lot more animated. I recall at one point during their Jamboree performance, they dragged out papier maché statues in the Backstreet Boys' likenesses to beat with a baseball bat. This time around, the first time they even addressed the audience at all was during the encore, right before their last song. They did play all of their old hits, including "Why Don't You Get A Job," "Pretty Fly (For A White Guy)," and ended the night with "Self Esteem." And the crowd went completely nuts for them, so I guess good times were had by all.
Transmission will be at Riot Fest's carnival all weekend so check back here for more festival photos and reviews throughout the next couple days.