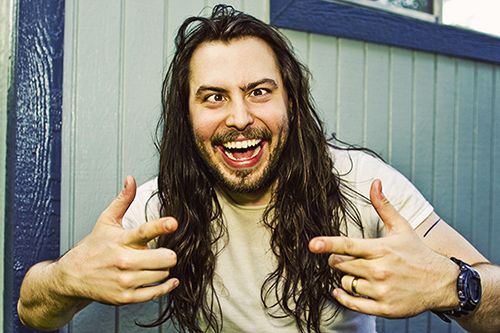 Andrew W.K. Photo by Katie Hovland
If nothing else, 2012 will go down as the year of the outdoor festival in Chicago. With the inclusion of several new large-scale music festivals -- including the conversion of the Saturday and Sunday portions of Riot Fest into an outdoor, all-day carnival -- and more street fests popping up than you can shake an ear of corn on a stick at, planning out your summer calendar has become more trying than ever.
After attending and/or covering many of these festivals this summer for Gapers Block, things almost seemed a bit stale going into Riot Fest yesterday. But, I have to say, what a wonderfully enjoyable experience it was. We've seen a huge growth in electronic music just in the last year in Chicago and most of the bigger music fests have catered specifically to that genre. As much as I've enjoyed them, it was refreshing to get away from the bass drops, the molly-seekers, the Jason-mask-wearing Pikachus hoisted up on poles and get back to my roots, the music I grew up with.
-Katie Karpowicz
Chicago did have its fair share of music festivals this summer, especially with the addition of Spring Awakening and Wavefront this year. Hell, we even have two big music festivals to choose from this weekend, with the Hideout Block Party going on not far from Riot Fest's carnival grounds. I have to say, hands-down, Riot Fest has the most solid line-up this year of any music festival in our city. In my mind that's not even in question. I've been waiting for this all summer.
While Riot Fest has been in Chicago since 2005, this was the first year they took the festival outdoors, so my only concern for the festival was the execution. Luckily, so far they really pulled it off. My only complaint would be that there needed to have a significant number of additional ATMs. I came to the festival without any cash on me, which was an oversight on my part. I waited in line at several different ATMs around the festival (which were few and far between) for over 20 minutes at each ATM, only to get to the front of the line and have the ATM run out of cash. A few of the ATMs weren't even turned on.
The carnival itself was a great idea and I had so much fun playing games, spinning in circles on the Zero Gravity ride, and watching Gaslight Anthem from the top of the Ferris wheel. Supposedly luchadores are going to be wrestling at the festival and while I did see a ring set up in the middle of the festival grounds, I walked past it several times during the day and didn't see anything going on inside. As for the music itself, I couldn't be happier. No complaints.
-Stephanie Griffin
Cursive
Due to an unfortunate ticketing issue, I was only able to catch the tail end of Cursive's 1:15pm set. I heard "The Casualty" come ringing out past the gate to the ticket booths and nearly bawled. However, as a band that's come a long way, musically, from their debut to the recent I Am Gemini, you never know what a live set will bring and I was still satisfied by the end. Slow jams like "From the Hips" pleased the crowd just as much as older, faster, quirkier tracks like closer "Dorothy at 40."
Frank Turner
My first real anticipated set of the day was Frank Turner's. It's pretty much the case with the majority of artists or bands that have "made it": before hitting the big time, they spend miserable years relentlessly touring the country (or in Turner's British-born case, countries), sleeping on random couches and scraping by financially. In that sense, the happiness that success brings should be shared by both the artist and fans alike. This couldn't be more true in Turner's case. The singer/songwriter, who now performs most shows with his live band The Sleeping Souls, is really seeing years of effort pay off and his graciousness leaves me with a real "aw, good for him" sentiment.
Kicking off his set with "If Ever I Stray," the live band was an excellent compliment to the setting. While Turner's soul-searching tracks might translate better acoustically in a dark club setting, The Sleeping Souls provided the backbone to carry an outdoor, festival performance. Despite the fact that Turner was born across the pond, his tracks are more relatable than ever. His performance of "Wessex Boy" yesterday, an homage to hometowns, likely brought as many memories about for the rest of the crowd as it did for this writer. And, at a gathering with the focus so perfectly placed on the music, lines from "I Still Believe" like "Now who'd have thought that after all, something so simple as rock 'n roll could save us all?" were the most fitting way to start off the day.
-Katie Karpowicz

GWAR (photo by Katie Hovland)
GWAR
GWAR is a band I've been meaning to see live for years but somehow never came around to it. After their set all I could do was regret I hadn't been seeing them every time they came to town for all these years. I can see how someone could be put off by the costumes and the act that they put on, but that person would have to be anti-fun. They were totally ridiculous! Obviously going into a GWAR show I knew there'd be fake blood everywhere, but nothing could have prepared me this. Everyone was soaked. The elaborate costumes, the chopping off of monsters' heads, the fake abortion of Snooki's baby. I ate it all up.
-Stephanie Griffin
Typically I'm not one for spectacles, however my dad and I have a long-standing joke that one day one of us would make it out to a GWAR show. And so, yesterday, I was gloriously bathed in alien invader blood. Take that, Dad. Musically, GWAR are not terrible. Like most metal/punk infusions, there's a strong focus on low-end rhythm breakdowns. However, most everyone yesterday, admittedly including myself, was there for the show. Elaborate warrior costumes, check. Monster bashings and beheadings, check. Masked men running around in leather thongs...check. For someone who's seen their fair share of shows in her life, I was thoroughly entertained.
-Katie Karpowicz

Hot Water Music (photo by Katie Hovland)
Hot Water Music
I was excited to see Hot Water Music purely out curiosity. After essentially breaking up for several years, the five-piece released its first new album since 2004 this year. Reunions are a funny thing. Sadly, the band's age and lack of affinity for older tracks commonly shows through more than anything else. HWM, however, aren't that old. They're also pretty straightforward in their live shows. No gimmicks or frills. Classics like "Trusty Chords" and "Rooftops" were addressed, albeit less enthusiastically than in years past. Something that truly is understandable after a decade-plus of playing them. And songs off the new record like "Drown In It" left the band rocking out harder than ever. As an act that influenced countless contemporary post-hardcore punk bands, specifically the burning coals vocal stylings of Chuck Ragan, it was great to see them back in action and playing to a gracious (and surprisingly huge) crowd.
-Katie Karpowicz

Andrew W.K. (photo by Katie Hovland)
Andrew W.K.
I've seen Andrew W.K. live a handful of times and all of his performances are pretty much the same, but it doesn't make them any less enjoyable. I had been over by the food vendors grabbing a bottle of water before his set started when I was greeted with a wall of sound. At first, it didn't even sound like music. I thought possibly one of the carnival rides had started malfunctioning until I realized (and actually said aloud), "Wait, is that Andrew W.K.?" When this guy says he wants to party, he's not lying. And he makes sure everyone in the audience is partying too. It's hard not to join along when his entire band lines up at the front of the stage and headbangs in unison. And of course, nothing ever beats his pizza-shaped guitar.
-Stephanie Griffin

Andrew W.K.'s drumkit (photo by Katie Hovland)
Minus the Bear
Minus the Bear was a bit of a disappointment. Not the band itself, necessarily, though vocalist Jake Snider's pipes did sound a bit worn out, especially on challenging tracks like "Throwing Shapes." Their beautiful, silky melodies and dreamy, effects-heavy accents play off better in a more contained atmosphere than a an outdoor festival. The impact of the tracks seemed less so and, therefore, less successful. It was pleasant to hear some of the cuts from the new album live though. MTB went with some of the slower tracks off Infinity Overhead, a bold but excellent choice.
-Katie Karpowicz
Coheed and Cambria
While not too familiar with Coheed and Cambria, I checked out their afternoon set on the recommendation of friends. It was my first time heading over to Riot Fest's Rock Stage, which is nicely hidden away from the rest of the festival. The stage is also surrounded by trees, which gave me a good opportunity to enjoy their set sitting down underneath a bit of shade. For me this was the least exciting set of the day, but a lot of that has to do with me being a big fan of a lot of the artists playing on Saturday and not having heard Coheed before. But all in all, I wasn't that into it. I really couldn't get past the oddly-timed inflections in the front man's vocals. I left their set a bit early to head across the festival to catch Dropkick Murphys.
-Stephanie Griffin
Dropkick Murphys
Who wouldn't have a good time at a Dropkick Murphys show? With my Irish roots, I have to love them. This is the type of music I'd want to sing on the top of my lungs with my friends in a pub while slamming back a few beers, if I were the type of person that hung out in pubs drinking beers (unfortunately I am not that type of person). I only caught the very end of their set seeing as though it took a lot longer to get to their stage than I had anticipated after seeing Coheed and Cambria, but their crowd was dancing around and having a good time so I'll assume they put on a good show.
-Stephanie Griffin
A Wilhelm Scream
It was 2008 the last time I saw A Wilhelm Scream. Not for lack of effort -- the band's just been pretty quiet in recent years. Ruiner easily makes my list of all-time favorite albums, so I was especially excited. You can imagine my uneasiness when the set got off to a rough start. The sound was so terrible when the band kicked off, I could barely make out the song. They segued into "Mute Print," a song that I've never felt especially attached to and, by the looks of the crowd, neither were they. Then the third song of set was a previously unheard new track. Needless to say, the momentum was low by this point.
Luckily, the band kicked it into super high gear for the remainder of the set, blasting through tracks like "Me Vs. Morrissey," "Famous Friends and Fashion Drunks," "The Rip" and ending on "The King is Dead" with a full musical introduction. If you have never listened to this track before, I highly recommend you do. Perhaps the best part of the set was the shock and awe of both the band and fans by the turnout and energy of the crowd. Good to have you back, guys.
-Katie Karpowicz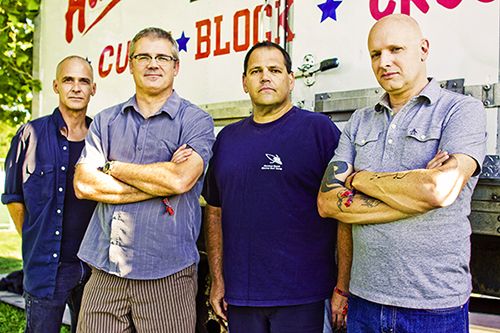 Descendents. (Photo by Katie Hovland)
Descendents
Fortunately being at the back of Dropkick Murphys' crowd made it easy for me to make it over to Descendents in time to find a spot right in the front near the stage. This was my most anticipated set of the day. Watching them play live is like finding out your geeky dad has more punk street cred than you. And front man Milo Aukerman is very much the geeky dad -- he's a father to two children and when he's not playing shows, he's working as a plant researcher at DuPont in Delaware. The guys in the band may be getting up there in age and they may have full heads of gray hair, but they can rock as hard as ever.
-Stephanie Griffin
Came home last night with "blood"-stained jeans, a tummy full of alligator sausage and the memory of soaring above the Riot Fest crowd on a Ferris wheel. Festival-going done right. Props to Riot Fest. I hope these changes are here to stay.
-Katie Karpowicz