Photo by Joshua Mellin

Despite predictions of rain and thunderstorms plaguing the first day of Lollapalooza, we luckily only saw a few scattered showers in the early afternoon before the sun came out for the rest of the day. We were lucky as had Friday hands-down had the best line-up of the weekend, between Nine Inch Nails, Lana Del Rey, Father John Misty, New Order, Queens of the Stone Age, Steve Aoki, Disclosure, and more. The downside was that the day was filled with tough decisions, but ultimately, no matter which stage you chose you couldn't really go wrong on Friday.
I started the day off a few blocks from Grant Park at the Hard Rock Lollapalooza lounge for a quick drink and a free manicure. This is a great spot to catch a few bands (they have scheduled performances throughout the day) and people-watch. As I was heading out, I saw a group of guys that looked like they were a band file into the elevator. My friend tugged on my sleeve and whispered, "That's Imagine Dragons!" As the elevator doors closed, the singer waved and whispered back, "Yes, it is!" Not bad.
The festival itself started for me at the Lake Shore stage for Swedish electropop duo Icona Pop. Sure, they do have a #1 song, but I was still surprised to find just how many people showed up to Lollapalooza so early in the day to see them. In my many years of attending the festival, I don't think I have ever seen a stage that crowded at 1:45 pm. They're set was, as predicted, heavily danceable, even during the rain that showered their performance. The sun came out from behind the clouds just as they started their hit "I Love It." Unfortunately, they played a weird mix of the song that was a little too drawn out and took away from the energy that the song usually produces. It was altogether a let-down.
Photo by Joshua Mellin

I stuck around the Lake Shore stage to get a decent spot for Father John Misty, and considering there didn't seem to be too many Icona Pop fans who are also Father John Misty fans, it wasn't that difficult. I've seen Father John Misty a handful of times in the past and throughout his performance he typically likes to spend a good deal of time chatting with the audience, so I was interested to see how this would play out with the significantly larger Lollapalooza crowd. This man has such a charismatic stage presence and had no problems carrying that over into huge festival territory. He has an endearing flamboyance and you just can't keep your eyes off of him. At one point he saw someone in the audience with a unicorn on a stick, stopped the song he was playing, said "Give that to me!" and proceeded to sing to and make out with it. At another point of his set, he knelt down on his knees and hugged the camera guy, grabbing the camera and singing directly into it. Joshua Tillman is a showman.
I caught a few minutes of Disclosure, but seeing as though they were on at the same time as New Order, I didn't stay very long. I wish I could have caught more of their set because their debut album Settle has been on regular rotation for me all summer. The crowd seemed to be enjoying the few minutes I was able to catch. Walking over to Red Bull Sound Select stage for New Order saw a noticeable twenty year leap in age from Disclosure's crowd. I arrived just in time to hear "Bizarre Love Triangle,"Blue Monday," and "Temptation." They ended with a tribute to Joy Division, running a few minutes over their set time to fit in "Love Will Tear Us Apart."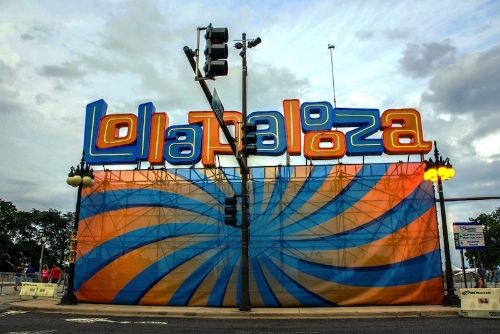 Photo by Joshua Mellin

Nine Inch Nails played Lollapalooza last night and I realize I will probably be slammed for my choice in headliner, but I've seen them before and so I chose Lana Del Rey instead. The thing about being a musician famous because of YouTube is that the fanbase are all hyper-internet-aware, and so throughout her set the entire crowd's cell phones and cameras were in the air capturing photos and videos. It's a common complaint at concerts nowadays (and I love snapping a few photos at concerts, so I'm not among the complainers) but usually fans will take a ton of photos for the first few songs and then it dies down. For Lana, however, it just never lets up. Her mostly younger crowd are just too excited to be in her presence.
After her flubbed Saturday Night Live performance, a lot of people wrote her off as a performer, but Lana commanded the stage last night. Through her short set played the majority of Born to Die with the mysterious exception of one of her hit songs, "Diet Mountain Dew". The crowd sang along to every word of every song, going especially crazy for "Blue Jeans," "Video Games," and from The Great Gatsby soundtrack, "Young and Beautiful." She ended with "National Anthem", jumping into the crowd and spending several minutes shaking the hands of the fans standing up front while her band jammed. After making it back up onto the stage, she waved a quick goodbye and disappeared as quickly as she arrived.