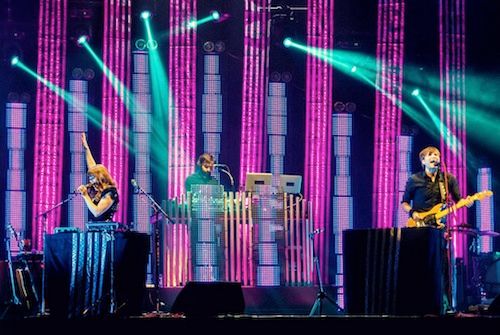 Photo by Joshua Mellin

Lollapalooza Saturday began with a couple pieces of huge news. Apparently Death Grips never showed up to their official Lollapalooza after-show at Bottom Lounge Friday night, and also weren't planning to show up to Lollapalooza either. The band ended up being replaced by Bad Things featuring snowboarder Shaun White. In other news, Ben Gibbard announced on Twitter that Saturday's Lollapalooza and Sunday's Lolla after-show at Metro would be the last two shows ever for The Postal Service.
With clear skies and a slight breeze, the weather was absolutely perfect for Lollapalooza Saturday. I spent the afternoon wandering around the vendor booths toward the center of the festival. The festival photobooth trend of last year has gotten even more intense this year with the growing number of gif photobooths. They're fun but a lot more difficult to post to Facebook, which is the whole point, right? The award for best booth definitely goes to Samsung, though. Spend a few minutes talking to a Samsung rep about phones or tablets or something and they'll give you a flower wreath made with real, fresh flowers (or a pair of headphones, or a fan, or a few other things, but the flower wreaths were obviously the coolest.)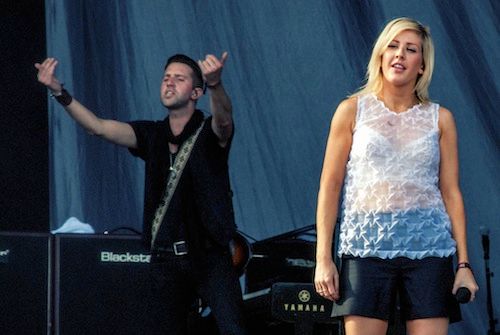 Photo by Joshua Mellin

I headed over to the Bud Light stage, which was completely packed for Ellie Goulding. So packed that got a little overwhelmed and teared up a bit before admitting that she was nervous and actually a little shy. Between her cover of Elton John's "Your Song" and her closing hit "Lights," the crowd was going crazy for her and it was well-deserved. Later on the same stage, the Kendrick Lamar crowd got so hyped that some dude in a wheelchair decided to crowdsurf. I hear the same thing happened last night at the Nine Inch Nails headlining set, which I missed, but Kendrick Lamar was so impressed that he stopped the music to instruct crowd to carry the wheelchair up to the front so the guy could enjoy the show from right up against the stage, later telling him, "This is your moment."
The Postal Service is greater than the sum of its parts. Together they're just a whole different beast. Ben Gibbard is no longer the awkward indie guy we've known him as in Death Cab For Cutie. He slimmed down and was looking real slick in his all black get-up, and has actually acquired a few dance moves. Jenny, too, seems like a completely different person, trading in the sorrowful rock of Rilo Kiley and the folky acoustic guitar of her solo work for a much more danceable act. The two of them, along with background loops and magic guy Jimmy Tamborello, all seem a whole lot happier here than I'd ever seen them with past bands, which makes it a shame that this show was to be their second-to-last.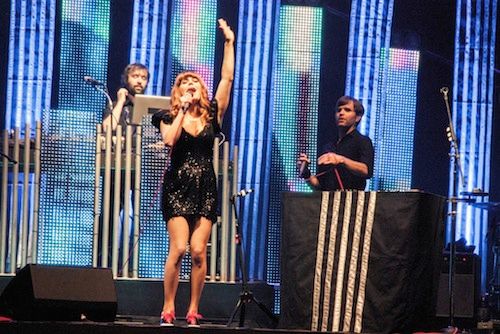 Photo by Joshua Mellin

The band opened with "The District Sleeps Alone Tonight" and played everything off Give Up, obviously, considering it was their only material to draw from. Even considering the fame of each individual band member, it is pretty incredible that so many people still love and care about this record that came out a whole decade ago, when we hadn't heard from the band at all since 2003. This wasn't a crowd of people there to see "Such Great Heights". A good majority of the people around me were singing along to every word of every single song. The band will play their final show ever tonight at Metro.