Concert Sat Jul 07 2007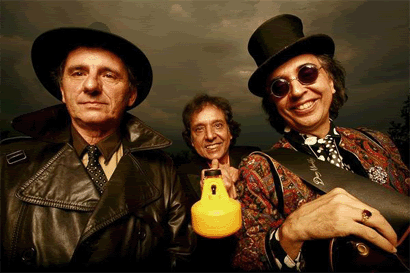 Artistic posterity is a tricky biz. Some things get lost or simply fall by the wayside, many fall short of canonical merits, and others – due to being in the wrong place or time (if not both) -- have to patiently wait for proper, overdue recognition. In the case of Brazilian psych-pop ensemble Os Mutantes, it was all a matter of geography. Formed in 1966, the trio was an integral part of the Tropicalismo movement -- a musical response to the cultural and political temperament of the times and a concerted effort by a cadre of restless musicians to "mod"-ify Brazilian popular music by taking it in new, inventive directions. With Os Mutantes, that direction involved an embracing of trippy, rockish influences from Europe and the U.S., and coming up with a delightfully odd and energetic mix of bossa nova, psychedelic pop, and whimsical musical experimentation. But it was not until the 1999 release of the Everything Is Possible collection on David Byrne's Luaka Bop imprint that many music fans outside of Brazil finally heard any of the group's material from the 1960s and early 1970s.
After a decades-long stretch of inactivity, Os Mutantes reunited in 2006, with vocalist Zèlia Duncan taking the place of former member Rita Lee, and began playing concerts together. Their appearance at last summer's Pitchfork Festival marked a triumphant return, and was greeted with an outpouring of enthusiasm and accolades. At present, Luaka Bop will soon be putting out an expanded reissue of Everything Is Possible, and late July sees the release of Live at the Barbican, a double-DVD set of the group's 2006 reunion show in London.

Having finally found a global audience, the band is presently making another sojourn from São Paulo to tour again. The current tour includes only four cities in North America, and they'll be playing at Metro this Wednesday night. DJ Joe Bryl will be spinning tunes throughout the evening. 3730 N. Clark. Tickets are $26 in advance, $31 day of. Doors open at 8pm, show starts at 9. 18 & over show.
[video]: Os Mutantes - "Bread & Circuses" documentary trailer
[video]: Gilberto Gil & Os Mutantes - "Domingo No Parque"