Concert Mon Jul 09 2007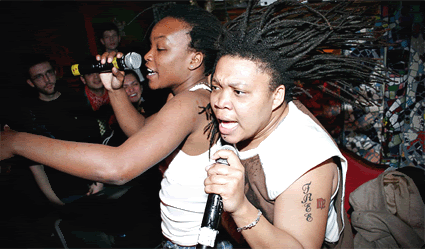 Photo courtesy of Clayton Hauch at EveryoneIsFamous.
Enough with the talking, honey…let's get down to the nasty. And what better opportunity for it than this weekend when Yo! Majesty sets up a temporary regal residency here in Chi?
The rowdy Floridian punk-funk-electro-crunk trio received a red carpet welcome when they made their Chicago debut at the Funky Buddha back in early March, and they ripped the spot proud and proper. At the time, the group was just on the cusp of a come-up, and the appearance was only one of a few that they'd made away from their home turf. Since then, they've received a lot more attention and are in big demand, partly thanks to the frenzied mp3 circulation of their tracks "Club Action" and "Kryptonite Pussy," and to their recent set at SXSW. This summer has them touring like mad all over the country, and they're reportedly putting down some tracks for a new release.
This Friday night, Yo! Majesty will be bringing the heat at Sonotheque. But if that conflicts with your plans, you'll have another chance to catch them on Sunday when they play at the Empty Bottle's Pitchfork afterparty. Check Sonotheque's site for details about Friday, and more here shortly on the Bottle goings-on. So stay tuned.