Concert Tue Sep 04 2007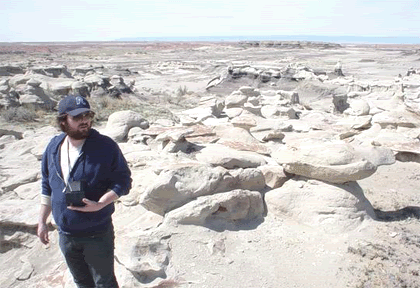 Signing Choir is the solo effort of Joey King, bassist for the Chicago glam-/psych-pop outfit The M's. The Choir's self-titled debut, to be released this week on Brilliante, is the culmination of of five year's worth of sideline songwriting and recording. Left to his preferences and devices, King cozies into low-fidelity space quite comfortably and furnishes it well; exploiting the four-track, bedroom recording aesthetic to maximum effect. Throughout there's plenty of fuzzy and bottom-heavy riffs, amplifier hum, and the grain of the voice cloaked in varied degrees of distortion.
Despite these deliberate rough edges, King proves himself an astute craftsmen when it comes to tailoring his songs with subtle, contrasting sonic details. He gravitates toward a post-mod mish-mash of pop stylings, and the Signing Choir sound is more pointedly "rockish" (in an early-90s college-radio way) than the Anglophilic hookiness of The M's usual material. He cranks things into bouncy mode on "Comb Your Hair" and "The Beths," and King proves himself consistently pop-savvy in the offing. But in its later stretch, the album settles into more shadowy terrain that's reminiscent of the shoe-gazing languidity of Dinosaur Jr. -- moody and ruminative, it's the sound of thoughts and feeling turning themselves over to see how their undersides fare against the light of day.
Brilliante Records and Schubas will be host a record release party for the Signing Choir CD this Saturday night, with Signing Choir -- featuring King with friends and The M's guitarist Robert Hicks -- headlining. Rock Plaza Central and Casey Dienel are on the opening bill, and DJ LA*Jesus will be spinning some tunes between sets. 3159 N. Southport. 10pm, admission is $8.