Concert Fri Nov 02 2007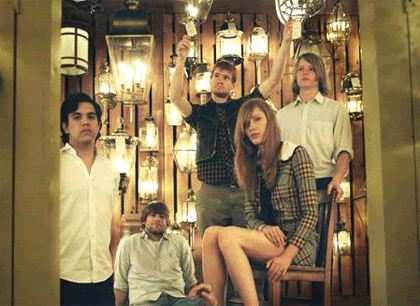 The press kit for the North Carolina outfit The Annuals would have us believe that the band is of the "should appeal to fans of Arcade Fire" stripe. Such reductivism and coattail-riding is the bread and butter of music industry blurbsters and hype merchants. Granted, there's plenty on the band's latest EP, Frelen Mas, to give teeth to the comparison. But fortunately, the Annuals know to pare back on the storm and stress and end-of-the-worldness much of the time, allowing more space for the listener to cozy into. And they prove that they're (thankfully) capable of bringing a little much-needed humor and whimsicality to the table.
On Frelen Mas, instruments and leads get passed around quite playfully, and the Annuals actually sound like they know how to enjoy themselves and keep the caterwauling and histrionics within reasonable limits. While their version of "Swing Low Sweet Chariot" doesn't really do the band or the songbook staple any great favors, there's still a fair amount of lush and capacious prettiness to be found throughout. Not to mention that they manage to pull together something that's damned near sexy with "Such a Mess."
And, oh yeah, Sneak Attack Media is currently hosting a contest where fans and listeners are welcome to mashup an Annuals' tune with some material by labelmates The Manchester Orchestra. Which, given the similarity between the two artists, ain't exactly like mixing anchovies and ice cream. (Check the links below to hear the two bands covering each other's songs.)
The Annuals will be playing at Subterranean this coming Tuesday evening. Manchester Orchestra and The Nevers are also on the bill. 2011 W. North Ave. Doors open at 6;30pm, show starts at 7; and tickets are $10 in advance, $12 the night of.
[mp3]: The Annuals - "Where Have You Been?"
[mp3]: Manchester Orchestra - "Brother"