Concert Sun Nov 04 2007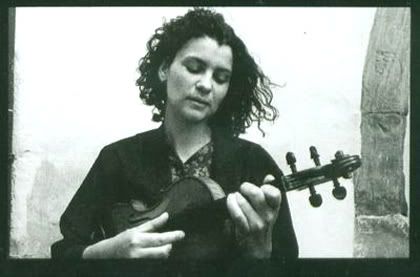 Renowned avant-garde violinist and vocalist Iva Bittová doesn't make it stateside very often, and her appearances in Chicago have been few and far between. But thanks to the organizers of the Umbrella Music Festival, you'll have a chance to see her perform for free this Monday evening.
The daughter of a Romani (or "gypsy") musician father, Bittová hails from the Moravian region of the Czech Republic. In the 1970s and '80s, she had held down careers as a film and theater actress, and was the vocalist for the Czech fusion-rock band Dunaj before taking up studies in classical violin. Over the past two decades, she's done a fair amount of work with classical material, recording the works of composers such as Leoš Janáček and Béla Bartók. What she's most known for, however, is creating what she calls her "own personal folk music."
Bittov&aacute style and technique on violin and vocals (she plays and sings simultaneously) relies heavily on improvisation and involves a brilliantly unique combination of classical precision, "experimental" improvisation, and a strong folk-ish, fiddler sensibility that comes from her Slavic and Romani background. Musically, it all adds up to a listening experience that's spellbinding, sometimes frightening, and often piercingly beautiful. To all of this add that her stage performances are said to be absolutely riveting. (Proof: Check the second clip below.)
Iva Bittová will be in the Preston Bradley Hall of the Chicago Cultural Center on Monday evening as part of the Umbrella fest. Bittová will be performing solo and is scheduled to go on at 7:15pm. 78 E. Washington St. The performance is free to the public.
[video] Iva Bittová - "Proudem mléka"
[video] Iva Bittová - duet with Pavel Fajt, circa 1989
[video] Iva Bittová & Vladimir Václavek - "Sto iet" ("Hundred Years")