Concert Tue Feb 10 2009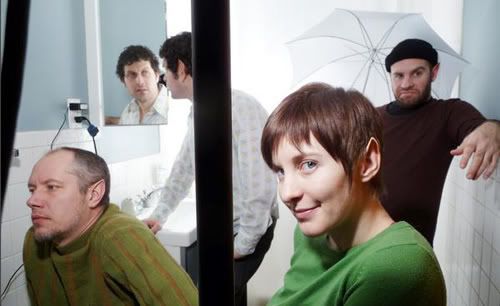 The presskit that accompanies Mother of Curses, the debut album by Todd Rittmann's new outfit D. Rider, goes out of its way to emphasize that this is not an art-rock record, but rather a record that rocks. Considering that D. Rider is the latest musical outfit headed by Todd Rittman -- former guitarist for the '90s avant-rockers U.S. Maple, and more recently involved in the bands Singer and Cheer-Accident -- the distinction might be warranted. Because let's face it, if what you're wanting is something linear and un-ironic in the way of a conventional rock "song," then Rittmann's probably the last guy in town who's gonna give it to you.
But D. Rider does indeed rock. Joining Rittmann in the band are Andrea Faught on keyboards and cornet, Mucca Pazza saxophonist Noah Tabakin, and Theo Katsounis (lately of A Tundra) stepping in to take the drummer's seat. And Mother Of Curses finds Rittmann checking much of his affinity for musical abstraction and disjointedness at the door. Over the course of eight tracks, he and his associates doling out a batch of tunes spooled on skulking basslines, some fractured Crazy Horse riffage, and heavy rhythms that lurch and lunge against the moorings. Musically, it's very reminiscent of a certain breed of indie rock animal that used to stalk the expanse of the Midwestern plains back in the early-'90s (specifically that pig-poking subgenus that once made up the bulk of the Touch & Go roster). On the vocals, Rittmann's often in trademark form -- sometimes singing as if he had developed an entire book of style from the fragmented, schizoid narrative that Bowie laid down on "Breaking Glass," at others yammering about who-knows-what like David Yow on an amyl nitrate bender.
Admittedly, Mother Of Curses isn't completely without its art-damaged inclinations. There's a few moments when the fretwork takes an angular zag, where Katsounis gutter-foots the beat, the horns sneak a slightly soured note underneath the chorus, or Tabakin lobs in a bit of Beefheartian skwonkiness. All such kinks aside, D. Rider is easily the most musically coherent and cohesive (and yes, "rockin'") excurion that one might expect from Rittmann and associates. In fact, they're not beyond flirting with outright pop gravitas on occasion. For instance: Check the patina of TVOTR-esque bleary-eyed soul adorning "Body to Body (to Body)," the echo of Led Zep's "Kashmir" that pops up in "Misery Whip," or the way the downtempo "Welcome Out" drips with some mutated form of country-blues achiness.
D. Rider plays at the Hideout this Friday evening, featuring the core line-up of Rittmann, Faught, Tabakin, and Katsounis. They'll be performing in the middle of the bill, and the show is the official record-release party for Mother Of Curses.
And as it turns out, Rittmann and Faught will be pulling double duty for the show; because the long-standing, amorphous Chicago ensemble Cheer-Accident are the headliners for the evening. Cheer-Accident are also celebrating the release of their new (and ninth, by more conservative math) album, Fear Draws Misfortune. Jessica Fogle opens. Doors open at 10 PM, and admission is $10.
Mother Of Curses officially releases via the Tizona label next Tuesday, February 17.

[audio]: D. Rider - "Touchy"