Benefit Mon May 04 2009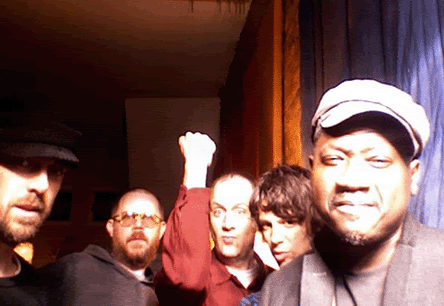 Baby Alright
Over the years, the Hideout has not only played a vital role in fostering the local music scene, but it's also often linked up with various organizations that strive to improve the social and cultural quality of life in the city of Chicago. This weekend, they bring these two traditions together yet again as they host a three-way benefit event, and a superb lineup of Chicago acts have signed on to take part.
Kicking off at 4 PM and continuing throughout the evening, the benefit features a rich and diverse billing of Chicago artists. The roster includes a double dose of homegrown avant-folk from Spires That In The Sunset Rise and Pillars & Tongues, some Puerto Rican styled bomba y plenta from the percussion & dance ensemble Afri Caribe, as well as a set of spaced-out latin psychedelic pop from local favorites Allá. The band Roommate will also be putting in an appearance, and headlining for the evening is Baby Alright -- the funk/soul covers project whose lineup includes Dan Bitney of Tortoise and poet/former D-Settlement frontman Marvin Tate. This being a Saturday night, the Hideout's Dance Party follows, with DJ Céline.
See the full schedule for the event below, after the jump.
4:00 PM - Pillars & Tongues
5:00 PM - Allá
6:00 PM - Afri Caribe
7:00 PM - Roommate
8:00 PM - Judson Claiborne
9:00 PM - Spires That In The Sunset Rise
10:00 PM - Baby Alright
11:30 PM - Dance Party with DJ Céline
Proceeds from the event go to helping three organizations that are committed to community outreach initiatives, prison reform, and the literary arts -- the Logan Square Neighborhood Association, the Tamms Year Ten Coalition, and Young Chicago Authors. Poet and YCA associate Avery R. Young will be hosting throughout, and representatives from the involved organizations will be on hand to sign up volunteers. Admission for the event is $12. 1354 W. Wabansia. Check the Hideout website for more details.