Concert Fri Oct 09 2009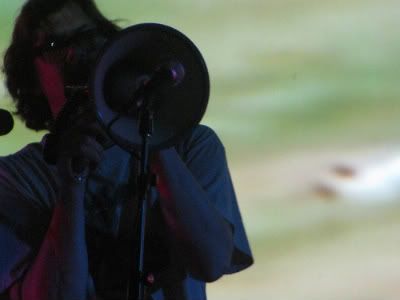 Riot Fest is bringing us a huge line-up of rowdy punk music this weekend, and it all kicked off Wednesday night at the Metro with Butthole Surfers. The Buttholes are back with their original 80's line-up, and played to a packed crowd ready to rock out.
I'm a bit too young to have caught this band at their peak, but Wednesday night's performance didn't feel like a bunch of aging punks desperately clinging onto the past. The music felt as fresh as ever, and the band drew me in with their psychedelic aural pandemonium. They played songs to span their catalog, and left out "Pepper", as promised. Just as I was noticing that the crowd was a bit older than what I'm used to, the band commented that they were surprised how young the crowd was. I guess that's to be expected for a band that formed in 1981.
The Butthole Surfers are known for pushing the envelope in their live performances with their crazy stage antics, and in that regard Wednesday night was pretty tame. They played in front of a screen flashing images sometimes lewd, violent, or disquieting, but visually stunning. However, anything scandalous was left on the screen. The only moment even remotely controversial occurred when Gibby Haynes used his saxophone to simulate pleasuring a woman projected behind him. I will admit I had to avert my eyes more than a few times during the more violent scenes. I guess I'm just not hardcore enough for Riot Fest.
Riot Fest is continuing throughout the weekend at multiple venues. Read our full Riot Fest preview here, and be sure to check back to Transmission for more updates and photos from the festival.