Concert Fri Oct 16 2009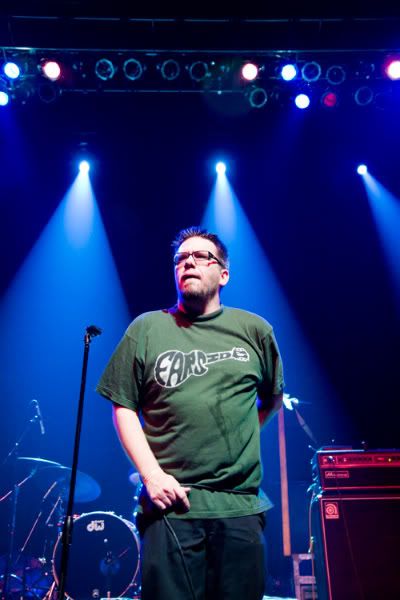 88 Fingers Louie
All photos by Brian Leli
The Congress Theater was packed in for all of Riot Fest, and Saturday night was no exception. It's no surprise with a line-up that included Off With Their Heads, Shot Baker, Youth Brigade, Street Dogs, 88 Fingers Louie, Cock Sparrer, and of course, NOFX. Besides the big shows happening at the Congress Theater and Metro, Riot Fest also offered a pre-party at Beat Kitchen, a film screening at the Viaduct Theatre, a bowling tournament at Fireside Bowl, plus after-parties at Subterranean and Cobra Lounge. Needless to say, a lot of kids were bouncing around between venues throughout the day, and it was interesting to see the hustle of people in and out of the Congress between sets.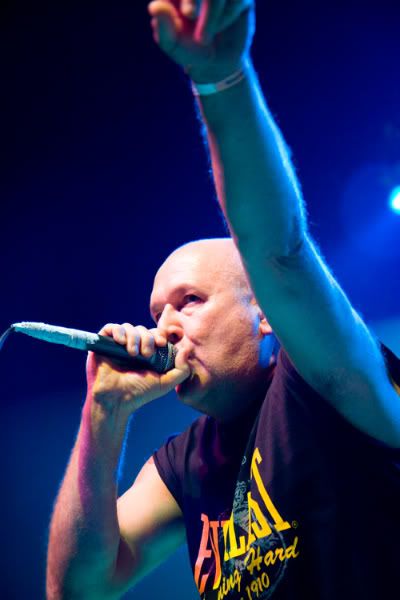 Cock Sparrer
Cock Sparrer were the first band I saw making a grand entrance at Riot Fest, with a slow lowering of the Cock Sparrer flag accompanied by a long recorded piano introduction, apropos for their first appearance in Chicago. As soon as the band hit the stage, the crowd went totally berserk, with a huge mosh pit forming over about 60% of the main floor. This is the kind of band you don't want to run into in a dark alley - big burly tough guys in cut-off tees. They played songs to span their career along to riotous cheers of "Oi!" from the crowd, from "Where Are They Now?" off their first album to more recent songs like "Spirit of '76", and everything in between - like "Because You're Young." It's not often that a crowd will cheer a non-headlining act out for an encore, but after Cock Sparrer left the stage, the audience at the Congress demanded just that, and the band obliged with two more songs.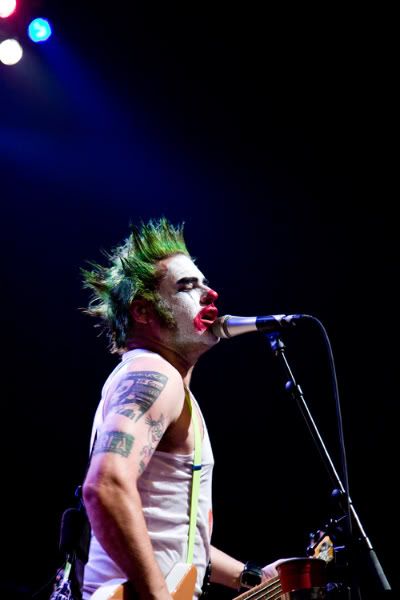 NOFX
NOFX have been around for 26 years now, but are just as immature now as they were in 1983. A mainstay in the California punk scene, these guys have the foul-mouthed, snotty kid act down to a T. Singer Fat Mike opened the show by asserting, "I've got 20 minutes until the drugs kick in so it's going to get good in about 20 minutes." At one point in the night, they taught a young boy in the audience what "felching" means (Don't Google this if you're at work). The band also played a song comprised entirely of racist jokes. With Fat Mike donning some rather frightening clown make-up, the band debuted some material off their new EP, entitled Cokie the Clown. And as for clowning around, Alkaline Trio's Matt Skiba ran onstage to blow flour onto Fat Mike via a giant flower on his lapel. They ended the night with a song-and-dance number to the Avenue Q tune, "Everyone's a Little Bit Racist", complete with a kick-line. Quite an entertaining way to spend a Saturday night.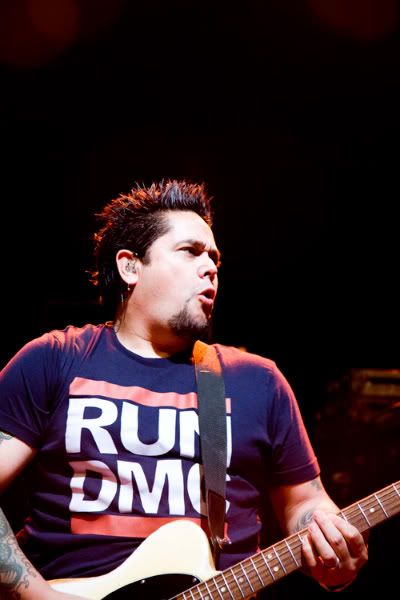 NOFX
Check back soon for updates from Sunday night's Riot Fest show at the Congress Theater.